Factors in the Location Decision


When planning for new facilities, expansion, and/or relocation, those charged with making the decisions take numerous site selection and quality-of-life factors into consideration. As in years past, we asked the Corporate Survey takers to rate these factors as either "very important," "important," "minor consideration," or "of no importance." The ratings in terms of percentages are shown in Figure 31. We then add the "very important" and "important" ratings so that we can rank the factors in order of importance, as shown in Figure 32. The quality-of-life factors are ranked separately from the site selection factors.

Historically, highway accessibility and labor costs have ranked as the top factors in our Corporate Survey respondents' location decisions. However, this year, those factors were outranked by availability of skilled labor, which is considered "very important" or "important" by 95.1 percent of the respondents and is in 1st position. Manufacturers' and other firms' need for skilled labor is becoming increasingly pronounced and has been well documented. An aging worker demographic, along with a lack of interest in manufacturing careers among young people, has put the issue at the top of site selectors' priorities. A new study from ThomasNet.com says this is "a ticking biological clock" for the manufacturing sector.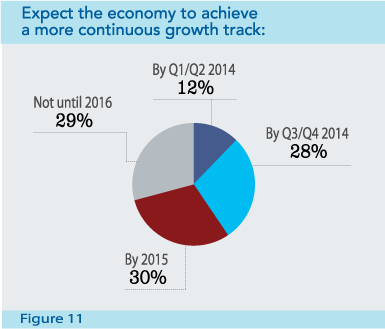 This is confirmed by the fact that more than 70 percent of the survey respondents say high unemployment rates are not making it easier for them to find the labor they need. More than 70 percent also say the unemployed are primarily lacking advanced skills, e.g., machine tool programming, advanced welding, etc. (Slideshow, Figures 33 and 34).

Additionally, half of the Corporate Survey respondents say they are very or somewhat dependent on contract workers, though most (85 percent) say contract labor accounts for less than 25 percent of their work force (Slideshow, Figures 35 and 36).

Of course, highway accessibility and labor costs are still paramount in the location decision; these factors are ranked 2nd and 3rd, respectively, considered "very important" or "important" by 93.5 percent and 90.8 percent of the survey respondents. The nation's aging infrastructure is, in fact, on everyone's mind. Bipartisan legislation was just introduced in Congress by Senator Roy Blunt (R-MO) and Senator Michael Bennet (D-CO) to establish a $50 billion American Infrastructure Fund to promote infrastructure improvements and create jobs as part of the Partnership to Build America Act.

Nearly half the Corporate Survey respondents say they consider weather-related factors in the location decision



And labor costs are always a primary factor in location decisions. According to PricewaterhouseCoopers, by 2016, U.S. manufacturing hourly wages are forecast to be $35.61. And although labor costs in China are rising faster than those in the United States, for labor-intensive manufacturing industries, the cost differential in absolute terms is not likely to result in re-shoring, says Robert McCutcheon, PwC Partner and U.S. Industrial Products Sector Leader. He adds that manufacturers of products that are costly to transport, such as heavy metals and industrial machinery, might consider reshoring to lower their transportation and energy costs and might, in fact, be looking at states where right-to-work laws have kept hourly wages relatively low.

The right-to-work state factor was, in fact, tied for 11th place in the rankings this year, considered "very important" or "important" by 80.6 percent of the Corporate Survey respondents. Two states in the heavily unionized Midwest, Michigan and Indiana, have recently pass right-to-work legislation in an effort to compete for industry investment and jobs.

Among the top-10 site selection factors, one of two showing a five-position jump in the rankings is state and local incentives; this factor went from 13th in 2012 to 8th place in 2013's Corporate Survey rankings, increasing 10.8 percentage points and now considered "very important" or "important" by 81.9 percent of the respondents. When primary considerations of labor and accessibility are satisfied, corporate executives look to incentives to keep costs in check.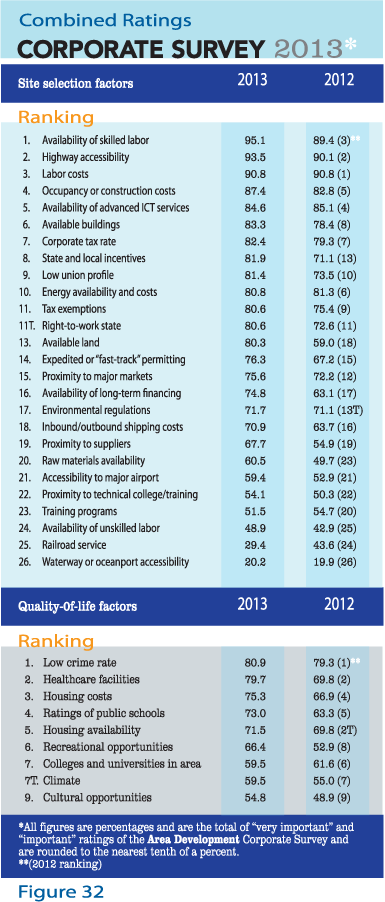 In response to a related question about types of incentives, more than 70 percent of the survey respondents say they consider tax incentives most important when making a location decision (Slideshow, Figure 41), and two thirds say incentives are very or somewhat important to a project moving forward in a particular location (Slideshow, Figure 42). However, slightly fewer than half say they have actually received and utilized incentives in the past. Of those that have, about half only received a quarter or less of the incentives initially estimated value (Slideshow, Figure 43).

It should be noted that energy availability and costs dropped from 6th to 10th position in the rankings, although this factor is still considered "very important" or "important" by more than 80 percent of the Corporate Survey respondents. When asked separately about the impact of energy costs on operations or distribution networks, surprisingly, about two thirds of the respondents say these costs are having no effect (Slideshow, Figure 37). The declining cost of U.S. energy appears to be having a noticeable and positive influence. In fact, half of our survey respondents say new unconventional sources of energy, i.e., shale-derived natural gas through fracking, will continue to drive down the cost of energy. However, 80 percent say this will not impact their location decisions (Slideshow, Figure 38) and they are continuing to make energy-saving modifications to existing facilities (Slideshow, Figure 40).

This year, the highway accessibility and labor costs factors were outranked by the availability of skilled labor.



Another site selection factor showing a five-position jump in the rankings, as well as the greatest percentage increase in importance overall, is available land. This factor jumped from 18th to 13th position but, more importantly, it increased an astounding 21.3 percentage points and is now considered "very important" or "important" by 80.3 percent of the Corporate Survey respondents. Although communities do need available land to attract and grow businesses, especially those requiring large plots with room for expansion, this factor is usually contingent on the specific project and generally comes into play only after other site selection priorities have been met.

However, a deeper analysis of the importance of available land may be gleaned from a 2012 study of available land in the Portland, Oregon, metro area conducted by the Value of Jobs Coalition, a partnership of city and regional leaders, along with the Oregon chapter of NAIOP. According to the study results, "A consistent inventory of sites is a key requirement for meeting market demand, either by expanding local employers or attracting new employers." And although not all firms require large sites, according to the study, "Nationally or globally scaled firms that can have a significant impact on regional economic growth…do require large parcels."

In a related question, we asked our Corporate Survey takers about the importance of the existence of a shovel-ready or pre-certified site in the location process. More than 60 percent deem this an important consideration (Slideshow, Figure 48). Consequently, if a community does not have an available site with proper infrastructure and utilities in place, it may be passed over by those looking to build a new facility.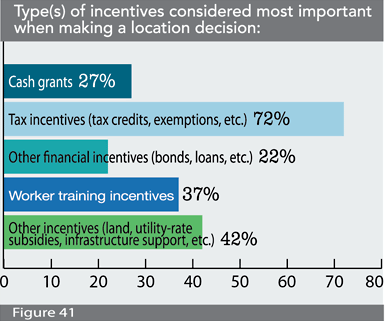 It is interesting to examine some of the other factors that have shown large increases or decreases in their importance ratings. The factor showing the second-largest increase in importance — gaining 12.8 percentage points — is proximity to suppliers. Although this factor maintained its 19th position in the rankings, it is now considered "very important" or "important" by more than two thirds of the Corporate Survey respondents. Keeping shipping costs down and distances short when sourcing materials is increasingly important to a company's competitiveness. A related factor, raw materials availability jumped three spots in the rankings to 20th position and grew 10.8 percentage points, representing the fourth largest increase, for a combined "very important" or "important" rating of 60.5 percent.

Availability of long-term financing showed the third-highest percentage increase in importance, jumping 11.7 percentage points and considered "very important" or "important" by nearly three quarters of the survey respondents, but just moving up one spot to 16th in the rankings. Businesses considering new facility or expansion projects need access to long-term financing in order to proceed with their projects without tying up their available resources.

Although the railroad service factor is usually ranked near the bottom of the list of site selection factors, this year it shows the largest decrease in the importance ratings — minus 14.2 percentage points and only considered "very important" or "important" by 29.4 percent of the Corporate Survey respondents. Since shipping goods by rail is more fuel-efficient than shipping over the road, the only explanation that can be offered for the decrease in importance of this factor is the makeup of the respondent pool, i.e., 51 percent in the non-manufacturing and non-warehouse/distribution sectors.

Quality-of-life factors are ranked separately from the other site selection factors. Nevertheless, only one quality-of-life factor would be rated among the top-10 factors overall — low crime rate, with a combined "very important" or "important" rating of 80.9 percent. This is historically the top-ranked quality-of-life factor, despite the fact that the U.S. crime rate has dropped over the last two decades.

Although rankings of the nine quality-of-life factors don't change dramatically from year to year, eight of the nine quality-of-life factors have actually seen their combined importance ratings increase. As the economy improves, there might be more focus on life outside the workplace. Additionally, the highly skilled workers need by today's advanced technology firms are more mobile and look for desirable places to live, as well as work (see article on "quality of place" in this issue). With that in mind, the quality-of-life factor showing the largest percentage increase in importance — up 13.5 percentage points with a combined "very important" or "important" rating of 66.4 percent — is recreational opportunities.

Also increasing nearly 10 percentage points are healthcare facilities and ratings of public schools. The increased importance of these two factors is no surprise considering the aging demographic of the current work force, as well as the pressing need for a qualified up-and-coming labor pool.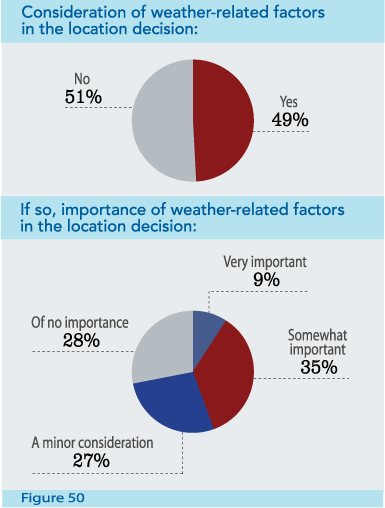 Related to quality of life is a location's weather patterns or climate. Recent devastating hurricanes and other weather-related disasters, as well as the bitter cold sweeping the nation this year, brings weather concerns to the forefront. Nearly half of the Corporate Survey respondents say they consider weather-related factors in the location decision, with more than 40 percent saying these factors are very or somewhat important (Slideshow, Figure 50).



Sources of Information and Project Timelines


More than 80 percent of the Corporate Survey respondents say they utilize site magazines like Area Development for information upon which to base their location decisions. About half also use general business and financial publications as a site selection resource.

While 62 percent of the respondents search the Internet for site and facility planning information, 83 percent claim social media, e.g., Twitter, LinkedIn, etc., is not utilized in this capacity. Three quarters search online for data on specific locations; more than 60 percent are looking for listings of available sites and buildings, such as those found on FastFacility, for example; and more than half search for contact information at economic development organizations, as well as for industry-related news on websites like AreaDevelopment.com.

Forty-two percent of the survey respondents say they start the information-gathering process from three months to a year out, with nearly 60 percent making contact with the locations of interest from a month to three months later. An overwhelming majority (89 percent) put between one and five locations on their "short list," and about half will visit up to five of those finalist locations before making their site selection decision, while a third will just visit one or two. Generally, most location decisions are made within three months to a year of initial contact, say more than 80 percent of the respondents.

Nearly 60 percent of those responding to our 28th annual Corporate Survey say they do not use outside consultants when making a location decision. Of those that do, 60 percent ask the consultants to perform location studies/comparative analyses and/or the real estate transaction. About 40 percent of those utilizing consultants' services do so for incentives negotiations and management as well as in the construction process.



In Sum


The results of the 28th Annual Corporate Survey do show a modest improvement in short-range new facility and expansion plans. With 70 percent of the survey respondents expecting the economy to achieve a more continuous growth track by this year or next, more of them are rolling out plans for new facilities or expansions sooner rather than later, according to the survey results.

There's also been a realignment of site selection priorities, with the need for skilled labor being the most critical concern. A quarter of this year's respondents actually say this shortage is preventing them from spending more of their earnings on investment in U.S. facilities — up from 19 percent who cited that factor in 2012 in response to this question. And, the percentage blaming their reluctance to spend on the new healthcare regulations under the Affordable Care Act jumped from 39 percent to 52 percent now that the ACA went into effect.

The latest Duke University/CFO Magazine Global Business Outlook Survey, concluded in December, reveals that nearly half of U.S. companies are reluctant to hire full-time workers because of the ACA. Companies only plan to increase full-time employment by 1.4 percent in 2014, according to that survey.

"I doubt advocates of this legislation would have foretold the negative impact on employment," said Campbell R. Harvey, a professor of Finance at Duke Fuqua School of Business and a founding director of the survey. "The impact on the real economy is startling. Nearly one third of firms may either terminate employees or hire fewer people in the future as a direct result of ACA."

Despite these concerns, 52 percent of the CFO magazine survey respondents say economic conditions for their firms will be better this year than last, with a projected 7.3 percent increase in capital spending.

After the 18-month long Great Recession, which officially ended in June 2009; economic growth in fits and starts since then; and just modest increases in employment; it's hard to say when we will see more of an upward economic trajectory. Yet, if economic optimists are correct and growth tops 3 percent this year, it would be the first time it has done so for a full calendar year since 2005. If this happens, we can expect to see next year's Corporate Survey takers continue to bump up their investments in new facilities, expansions, and hiring. We can also expect more investment in work force development — a subject that Area Development will cover in greater detail in a special publication to be produced this spring as we continue to address the needs of our corporate readers.