The automotive industry, familiar with disruption, has entered a new and exciting wave of transformation and growth. We are on the verge of an automotive revolution, sparked by technology-driven trends such as diverse mobility, autonomous driving, electrification, and connectivity. Real estate solutions to these changes require us to rethink how we meet the needs within an evolving marketplace.

We are witnessing an increased need for industry-centric manufacturing capacity globally and in the United States, in particular. In fact, despite major headlines focusing on manufacturing growth in Mexico, many of the world's leading auto manufacturers (OEMs) — including Volvo, BMW, Mercedes, FCA, and others — are building or expanding their operations domestically. And as OEMs grow their footprints, their supplier bases continue to expand as well.

Additionally, the rush to produce electric vehicles has inspired several new entrants to plan and build new auto plants as they attempt to compete with the likes of Tesla. Among them are Faraday Future, which is constructing a $1 billion factory in Nevada, and Lucid Motors, which just recently announced plans to build a $700 million factory in Arizona.

The "Right" Real Estate
What do these companies and their suppliers need to reach their goals within the timing pressures of a dynamic market? Skilled labor, for sure; but they also require the right real estate to produce vehicles and parts.

The real estate requirements present a couple of challenges. First, few available and existing auto plants can accommodate the evolving specifications of this sector. Second, the overall supply of better-quality industrial buildings continues to shrink commensurate with overall improvements in the industrial real estate market.

For context, the industrial sector at the end of the third quarter of 2016 had registered 26 consecutive quarters of net occupancy gains. The national industrial vacancy rate continued to decline, falling by 90 basis points from the prior year to 5.6 percent. Industrial vacancy tightened in every region of the U.S. in the third quarter and is currently tracking a full 280 basis points below the 10-year historical average.

The U.S. manufacturing sector has witnessed steady occupancy gains since it hit bottom in 2009, with more than 220 million square feet of net positive absorption in the recovery since then. As a result, vacancy rates for U.S. manufacturing have fallen by 190 basis points during this period to a current level of 5.2 percent — well below the 10-year average of 6.6 percent.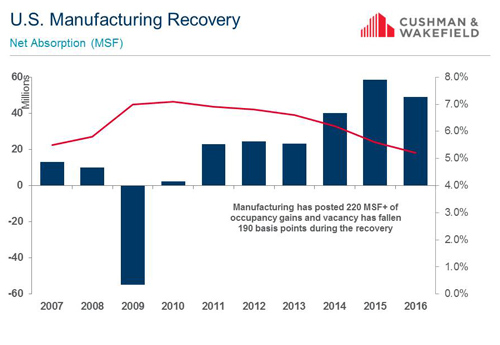 This tightening of quality industrial product across the country has led to increased new construction, especially build-to-suits. Meanwhile, manufacturing construction is recovering. Since 2010, 115.7 million square feet of manufacturing space has come online and the pace of deliveries is increasing. An average of 21.8 million square feet of new manufacturing product added during the past three years is approaching the pre-recession average of 24.4 million square feet.

The automotive industry's high-level design requirements and supply/demand imbalance are combining to generate a surge in the development of next-generation manufacturing product in key markets nationwide.

Next-Generation Facilities
Today's auto parts manufacturing and assembly plants are being built with substantially higher ceiling heights, wider column spacing, more flexible loading, higher power, greater ventilation, and more employee and truck parking than in the past. In fact, 36-foot ceiling heights, 60-foot loading bays, and 50-foot by 50-foot column spacing are becoming the new normal. Manufacturing bay spacing is going as wide as 100 feet, and many companies require space for crane bays, which are used to swap out dies in the various manufacturing processes.

The flow of a manufacturing facility can be critical to a new process, which is another reason why it is much easier to design a new facility from scratch rather than trying to locate an existing building, which may not meet a company's needs.

Additionally, European automotive entrants, in particular, aspire to build assets that are future-proofed for adaptive re-use after the initial use has run its course. They look at the way American manufacturers have traditionally built — with the option to raze and redevelop once a facility has run its course — as an oddity. These companies are developing their new facilities with reuse, sustainability, and adaptability in mind. For example, the incorporation of a nine-inch slab in a building initially earmarked for distribution can accommodate a heavy manufacturing operation down the road.

The automotive industry's high-level design requirements and supply/demand imbalance are combining to generate a surge in the development of next-generation manufacturing product in key markets nationwide.



New construction takes time, and time is the enemy of production; speed-to-market is crucial. Developers are being asked to quickly build facilities to meet the capacity demands of the auto industry as they work to accommodate an increased volume in new car sales. Construction cycle times are being reduced. Where 12 to 14 months used to be the average cycle time, today the timeframe has been reduced to 10 to 12 months. Accomplishing this turnaround without cutting corners or getting mired in the approval process can be challenging.

Among the myriad of challenges, getting buy-in from the local municipality to turn around permits in a timely manner can be a huge factor particularly from a budget perspective, especially given potential delays due to winter conditions. The ability to break permits into separate grading permits, shell permits, and build-out permits allows construction to commence much earlier, rather than waiting for a complete building to be fully designed. Coordinating architectural, structural, MEP (mechanical, electrical, plumbing), and civil plans in house (i.e., efficiently) also reduces the amount of permitting time for a project and ensures a higher-quality project at a lower construction cost.

Proximity to Assembly Plants
Supply chain considerations — such as distance to customers and suppliers — have been and remain crucial to automotive plant site selection. The Rust Belt remains a popular region for OEMs; however, there are a number of additional "hot" markets emerging.

To that end, today more than ever before, automotive suppliers are required to deliver parts to an assembly plant in a just-in-time fashion, often 30 minutes or less. Proximity and having multiple routes to the assembly plant, avoidance of tolls, interstate accessibility, and traffic patterns are all considered when selecting a site for parts delivery to the line.

For example, Volvo is constructing its first U.S. factory near Charleston, S.C. The company cited proximity to international ports and infrastructure, a strong skilled labor force with experience in the high-tech manufacturing sector, and an appealing investment environment among its reasons for choosing its Berkeley County location. Magna is also building a new manufacturing facility in South Carolina. The 165,000-square-foot plant in Greenville County is reported to be producing exterior molded and painted assemblies for BMW AG, which maintains an assembly operation in neighboring Spartanburg County.
Automotive OEMs and their suppliers are busy Volvo Cars is Constructing a $500 Million Manufacturing Plant In Berkeley County, South Carolina

Volvo Car Corporation has selected Berkeley County, South Carolina, for its first manufacturing facility in the Western hemisphere. The new $500 million factory is expected to create 2,000 new jobs over the next decade and up to 4,000 jobs by 2030.

Magna International Plans $50.8 Million Manufacturing Plant In Greenville County, South Carolina

Magna International, a Cananda-based leading global automotive supplier, is expanding its manufacturing operations with a new exteriors facility at Matrix Park in Southern Greenville County, S.C. at the corner of U.S. Highway 25 and Interstate 85. The $50.8 million investment is expected to create 153 jobs.

Yanfeng Automotive Interiors Plans Belvidere, Illinois, Manufacturing Plant

China-based Yanfeng Automotive Interiors, the world's largest supplier of automotive interior components, is establishing a new manufacturing facility in Belvidere, Illinois, to support FCA US LLC.

Lucid Motors Plans Electric Car Manufacturing Complex In Casa Grande, Arizona

Lucid Motors selected Casa Grande, Arizona, for its electric car manufacturing operation. The facility is expected to bring over 2,000 projected new jobs and more than $700 million in capital investment to the region by 2022.

Flex-N-Gate To Open Manufacturing Plant On Detroit, Michigan's Eastside

Flex-N-Gate will invest $95 million to construct and equip a facility on a vacant parcel in Detroit, Michigan's eastside, that will supply parts to Ford Motor Company.
In Illinois, two Chrysler suppliers are building facilities near the OEM's Belvidere assembly plant. Yanfeng Automotive Interiors is constructing a 336,000-square-foot facility, while Magna International is building a 220,000-square-foot facility; both are reported to be manufacturing components for Jeep® Cherokee vehicles assembled locally.

Another good example is the Lucid Motors project. Its Casa Grande, Ariz., location will enable fast shipping of parts manufactured in Sonora, Mexico. And, in Detroit, Flex-N-Gate Corp. is building a 500,000-square-foot manufacturing plant after receiving a new Ford Motor Co. contract for aftermarket parts. The facility will produce products for other customers as well.

"While the transformation of the automotive OEM business, overall, is not an e-commerce, online-shopping–driven opportunity, it is certainly a technology-based and connectivity-driven transformation. It happens that, however, each big change driver has had a significant impact on the industrial real estate market," comments John Morris, Cushman and Wakefield's Logistics and Industrial leader. "The two businesses are colliding in the middle of a short supply real estate market."

Without a doubt, OEMs and their suppliers are busy and show no sign of slowing down. In turn, we anticipate continued and strengthening demand for manufacturing real estate. The good news is that seasoned real estate professionals understand and can address the distinctive challenges of the automotive sector from labor issues, logistics, infrastructure, technology, and credits and incentives, to the unique requirements of the real estate itself. And developers are finding creative solutions to deliver buildings more rapidly than ever before without sacrificing quality.

These are exciting times within the auto industry, and it is uplifting to witness new factories coming on line from existing and disruptive players within a sector that not that long ago was struggling to stay relevant and financially strong.