An ancient Greek philosopher once commented that there is nothing permanent except change. This is certainly true of the American auto industry, which has been transformed over the past three decades.

The companies making vehicles in America changed, and the location of auto production also changed. Future change in the industry could impact its manufacturing geography once again.



A Brief History


The restructuring of the American auto industry began in the 1980s - and accelerated during the Great Recession, which resulted in the bankruptcies of GM and Chrysler. Since the Great Recession, the industry has recovered, with U.S. production close to pre-recession levels. The industry is once again profitable and growing, leading to new opportunities for communities seeking auto-related investment.

Auto assembly plants are among the crown jewels of economic development. A typical auto plant will employ up to 5,000 people, with above average wages and benefits, and will generate thousands of spinoff jobs. According to the Center for Automotive Research in Ann Arbor, Mich., every assembly plant job creates a total of 10 jobs in the supplier and support industries.

The auto industry also spurs huge R&D expenditures - both by the automakers and their suppliers. Booz & Co. estimates that the global auto industry spent $102 billion on R&D in 2013, about four times more than the aerospace and defense industry. A Brookings' study notes that high-value engineering and R&D-intensive industries, such as automotive, are "the prime movers of regional and national prosperity." That explains why so many state and local economic developers continue to focus on attracting auto investment.

When I first started working in the auto industry in the early 1980s, five companies - GM, Ford, Chrysler, American Motors, and Volkswagen - assembled vehicles in 21 states scattered throughout the nation. In addition to their traditional base in the Midwest (Michigan, Ohio, Indiana), the Detroit 3 operated plants on both coasts and in the South/Southwest. Over the next three decades, the Detroit 3 restructured, closing plants in several states, and consolidating most of their American manufacturing operations into their traditional Midwest base. At the same time, the Asian and European automakers started building cars in the traditional automotive states, such as Ohio and Indiana, and also in the Southern States, which saw a rapid growth in vehicle manufacturing.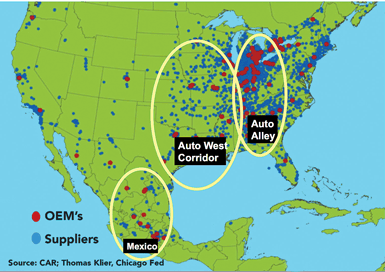 Auto Alley and the Auto West Corridor


After three decades of restructuring by the Detroit 3, and expansion by Asian and European automakers, most auto production in America is now consolidated in an area nicknamed "Auto Alley," roughly defined as the corridor between I-65 and I-75, running from the Great Lakes to the Gulf Coast.

While auto production is likely to remain centered in Auto Alley, the auto industry is also expanding west of Auto Alley, in an area that I will dub the "Auto West Corridor." This area is roughly bounded by I-55 in the east and I-35 in the west, extending from Illinois to Texas, and is home to 10 auto assembly plants. States in this corridor are well placed to compete for future automotive investment. When GM and Ford consolidated most of their manufacturing in Auto Alley, they did not close their assembly plants in Illinois, Kansas, Missouri, and Texas. Since the Great Recession, these automakers have announced more than $3 billion in new investments in those plants, creating several thousand new jobs. A recent Brookings' study notes that the Kansas City metro area, with large GM and Ford assembly plants, is now the second-largest auto-industry trading hub in North America, after the Detroit area.

Over the past decade, Toyota built two new assembly plants west of the I-65/I-75 corridor - in Tupelo, Mississippi, and San Antonio, Texas - and recently announced that it will create a new North American headquarters near Dallas that will employ 4,000 people. Nissan started up its Canton, Mississippi, plant in 2002, also west of the I-65/I-75 corridor, and is in the process of expanding the facility. Mitsubishi recently expanded production at its Normal, Illinois, plant, and Chrysler added a third shift as part of the $700 million expansion at its Belvidere, Illinois, plant.

Taken together, when the current expansions are completed, the six automakers will employ over 40,000 people in the corridor. This investment in new auto assembly capacity has been followed by new supplier investment in the region. Missouri, for example, has recently announced 10 supplier expansions and new plants, creating 1,000 jobs.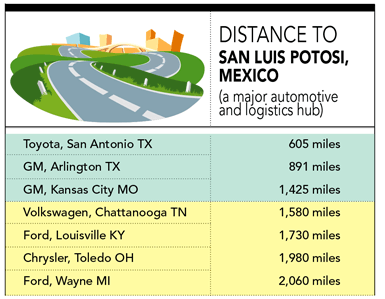 Rapid Expansion of Mexico's Auto Industry


Another factor that may contribute to the future growth of the Auto West Corridor is its proximity to Mexico, which is emerging as a major automotive hub. Twenty years after the passage of NAFTA, Mexico has attracted significant new automotive investment. BMW and Mercedes are the latest of a string of automakers that have announced plans to build new assembly plants there.

As Mexico's auto assembly has expanded, so has it auto parts sector. Delphi, which was formerly GM's parts division, is one of several parts manufacturers that have shifted a significant portion of their North American production to Mexico from the U.S. Mexican parts content in American-built vehicles has increased fourfold since the enactment of NAFTA. On average, a vehicle made in the United State contains more than $4,000 worth of Mexican-made parts. For example, Ford's Wayne, Michigan, assembly plant sources 27 percent of its parts from Mexico, and Volkswagen's Chattanooga plant sources 15 percent of its parts from Mexico.

The rapid expansion of the Mexican automotive industry has raised alarm bells, especially in some of the Southern States, which haven't seen a new greenfield assembly plant since Volkswagen announced its Chattanooga plant in 2008. Although some see Mexico's burgeoning auto industry as a threat, it is an opportunity for others. The auto industry in North America is rapidly integrating, with vehicles and parts moving across the border in both directions. Proximity to Mexican parts suppliers could provide a logistical advantage for plants located in the Auto West Corridor, if the trend toward increased Mexican parts content continues. As illustrated in the table on page 16, assembly plants located in the southern part of the corridor are closer to Mexico than many of the assembly plants located in Auto Alley. Fewer miles from Mexico means lower transportation costs for Mexican parts, which are making up an increasing percentage of the content of American-made vehicles.

To be sure, the auto industry is alive and well in Automotive Alley, which has seen some $29 billion in new investment (in existing plants) since the Great Recession according to the Center for Automotive Research. But the recent new investment in the Auto West Corridor and its proximity to Mexico suggest that states in this corridor may be in a position to compete for the next new greenfield U.S. auto assembly plant.



The West Is Back In Play


Moving further west, northern California is an emerging hub of automotive activity, with the Tesla plant in Fremont, California, and the uptick in automotive activity in Silicon Valley.

Four decades ago, California was home to five auto assembly plants operated by the Detroit 3. After the NUMMI joint venture shuttered the last remaining auto assembly plant in California in 2010, most observers wrote off auto production in the state. But a newcomer, Tesla, has successfully started up operations at the former NUMMI plant, and now employs several thousand people there. Tesla builds electric vehicles and is looking for a site for a $5 billion "giga-factory" to make batteries, which it says will employ 6,500 people. As of this writing, Tesla has narrowed its search to five states, all located in the Southwest and West.

Silicon Valley has recently attracted significant auto-related investment, causing one tech blog to proclaim that the valley is becoming "the new Detroit." As vehicles add more technology and software, the nine largest automakers and three largest global auto suppliers have set up offices and R&D facilities in Silicon Valley. A company best known for its Internet search engine, Google, is making a significant investment in the auto industry as it develops self-driving, autonomous vehicles. It recently unveiled a prototype vehicle that it designed and built without a steering wheel, brake pedals, or an accelerator. A video of the vehicle, which can be found on YouTube, shows happy passengers going along for a ride in a driverless car. Some in the industry are speculating that Google may be the next new automaker. Among auto industry experts, opinions differ about when fully autonomous vehicles will be viable. IHS, a prominent auto industry forecasting firm, predicts 54 million autonomous vehicles will be on the road within 20 years — and that by 2050 nearly half of all vehicles will be self-driving.

Whatever the outcome, the development of the autonomous vehicle is yet another indication that the auto industry is in another, long-term disruptive phase, which will have implications on where vehicles are developed and built. New developments could lead to new opportunities. States and regions once considered "out of the mix" for new auto investment might find they are back in the game.