The recent resurgence in direct investment in North America by European automotive manufacturers is hardly surprising. Continued flat sales projections and production inflexibility in Europe have forced the industry outward to livelier markets. China and other large developing regions are obvious targets given their dramatic recent economic expansion and continued expectations of strong increases in transport demand and discretionary spending. As European automotive brands are well regarded in these markets, they certainly have the potential to generate attractive margins that can no longer be achieved at home. But these fast-growing, younger markets bring with them certain risks. Political uncertainty, currency instability, inconsistent regulatory environments, weak legal protections, and unreliable distribution infrastructures are just some of the issues that can quickly turn overseas direct investment into a loss-making affair.

These risks are particularly acute for the closely integrated and infrastructure-sensitive production chains of the European automotive industry. Long-term strategic alliances with suppliers, an environment supportive of active product development, and heavy dependence on a broadly educated and highly engaged workforce are all defining elements of the European approach to automotive manufacturing. Duplicating (or even just approximating) this productive but complex relationship outside of Europe requires educational, legal, and labor structures that simply do not exist in many developing markets. European manufacturers have discovered over the last few years (often the hard way) that basing production site decisions primarily on projected host-market growth and/or low production costs is unlikely to result in creating the manufacturing environment they require.



Some Options


In short, the traditional model of overseas production siting, based primarily on chasing market growth and/or low production costs, has proved too unstable for European automotive firms defined by their more long-term strengths of branding and product innovation. Production investments in high-growth markets with underdeveloped legal and business infrastructures have all too often resulted in grand profits being marginalized by unpredictable "local costs of doing business," such as inconsistently applied regulations (both in staffing and trade), lack of IP protection, restrictive ownership and profit rules, and insufficient control of production quality.

And for most European manufacturers, retreating back to solely producing at home is simply not an option. Relatively high production costs and general rigidity in the local manufacturing infrastructure make it impossible for European-based firms to competitively cater to the world's demand for their products by export alone. This condition is further exacerbated by the increased tendency of many developing countries with high market potential to actively discourage imports in what they see as critical or lucrative manufacturing industries.

But in North America, European automotive firms find a business and legal environment that has maturity and stability equal to their own, but with greater operational flexibility and projected market growth. And the advanced infrastructural support in much of North America encourages many European automotive firms to employ a more complex mix of tangible and intangible factors when evaluating potential production sites. Thus, more value can be placed on production factors that promote long-term presence, such as the ability to maintain a skilled and adaptable workforce, access to a modern support and distribution infrastructure, strong legal protections, R&D support, a stable political and economic environment, and responsive capital markets.

A recent report commissioned by HMC Global, a leading foreign direct investment consultancy, ranked the key attractors for European automotive firms choosing to produce in North America. This information is based on the times each indicator was publicly announced by manufacturers and their representatives over the last three years as an important factor in their production site selection. The top seven results (in order of overall preference) are illustrated in the following chart.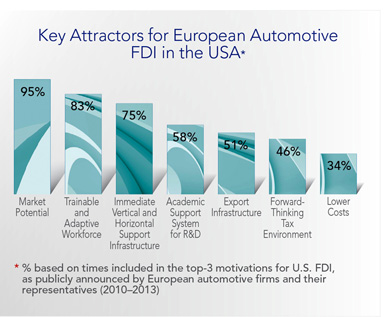 Even just 10 years ago that list, for most companies, would have had only two elements: market potential and lower cost. And thus, most of the European automotive firms that chose to develop offshore production were making their calculations based on similar assumptions and weightings. That is not to claim that the members of Europe's automotive industry have operated as a monolithic entity, pursuing identical objectives and utilizing identical methodologies. But, historically, these firms have faced relatively little latitude in production mechanisms in their heavily regulated home markets. And until recently, overseas production siting decisions by these firms have been dominated by the rather straightforward combination of seeking high regional growth and low production costs. Thus, facing very similar circumstances, these firms unsurprisingly often pursued very similar paths.



Defining Choices


But firms now recognize the importance of these broader metrics to the success of their overseas productions and are actively tailoring the mix to better suit their increasingly divergent strategies. Where Fiat may place greater value on buying into traditional U.S. industry infrastructure and local brands, BMW finds the export links supporting its South Carolina operations vital to the plant's success and its overall global strategy. Mahle places a heavy weighting on good access to a trainable and adaptive workforce, while ContiTech's siting strategy focuses on supporting both its automotive and non-automotive segments. These firms, their objectives, and even their methods can no longer be painted in a single hue. They are each distilling the factors that have made their companies successful and looking for ways to constructively introduce those elements into their overseas production.

And it is the distributed nature of business governance in North America that is enabling European firms to create a more tailored fit for their specific production site requirements. Automotive manufacturing in North America has now expanded well beyond the traditional bases in the Midwest states, with Canada, Mexico, and all continental U.S. regions seeing growth in greenfield investment over the last few years. Each nation, each state, even each city or county can offer different approaches and advantages, giving interested firms the opportunity to better match a location to its operating objectives, structure, and practices.

This process is further advancing in complexity as firms build broad integrated production networks across multiple states and nations in the region. They are increasingly relying on the excellent communications and transport infrastructures in North America to pick and choose the best mix of sites for the various elements of the production chain — while showing less and less regard for distance and/or borders. With recent announcements about BMW and Daimler beginning production in Mexico, soon all European automakers producing in North America will have major production sites in at least two of the region's three nations. Component suppliers are also following the trend.

European automotive firms are openly embracing the wide range of siting choices available in North America and carefully building production capability that suits multiple strategic objectives beyond simply boosting the bottom line. This approach is doing more than just helping these companies improve the probability of success in their overseas direct investments. It is providing them with new opportunities to fundamentally distinguish themselves from their competitors — not just at the marketing and branding level, but also at the very heart of any manufacturing firm, i.e., in production and development. Firms that have a clear understanding of this will be well positioned to make the most of the automotive production environments currently developing in North America. And investment promotion agencies that have a clear understanding of this will be better prepared to seek out the right firms that will fit well in their regions.