An epic battle for control of the future of the U.S. auto industry is in full swing as Silicon Valley technology titans attempt to use self-driving digital wizardry as a means to wrest the wheel from traditional automakers in Detroit. Much of the fate of the economy of the industrial Midwest hangs in the balance.

The struggle between the writers of software and the benders of metal is occurring on the global level as well, as the foreign companies that make cars across the South are competing in the same race with their own approaches to autonomous driving — so count the entire American Heartland as having huge stakes in the outcome.

"We want to win and we will win," said Jessica Robinson, Ford's director of City Solutions (Ford Smart Mobility), at the Detroit auto show earlier this year. "For the region and our employees and our shareholder value, we will move forward."

Many automakers as well as tech companies such as Google, Apple, and Uber have pledged the commercial feasibility of self-driven automobiles by around the middle of the next decade. U.S. regulators have promised to shape a transportation infrastructure and traffic-safety system that keeps pace with the technological possibilities.

American consumers have indicated a hesitance to embrace autonomous automobiles, but slow acceptance by the general public is a hallmark of many new, transformative technologies. Besides, current car buyers readily have adopted many of the specific automated-driving features that will become components of the completely autonomous vehicles of the future, including radar-guided cruise control to keep cars safe distances from traffic in front of them, the use of sensors to keep wayward drivers in their lanes, and hands-free systems that make easy work of parallel parking.

So the bigger question isn't whether cars and commercial vehicles someday will drive themselves. It is, which companies and even which industries and regions will supply self-driving vehicles and systems?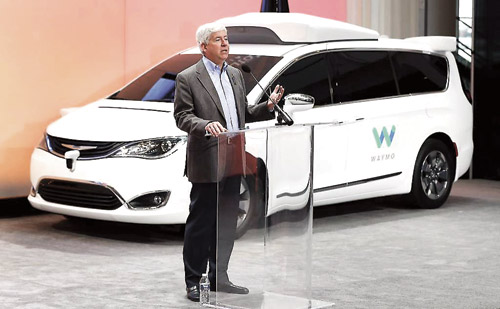 Jockeying for Position
Silicon Valley companies are positioning themselves to create and control the vital brains of autonomous vehicles, and also perhaps the powertrains of all-electric versions, with the idea of essentially commissioning traditional automakers and their huge base of installed capacity to handle the engineering and production of the actual vehicles. But General Motors, Ford, Toyota, Honda, BMW, and other auto companies are pushing back against this scheme, recognizing that to cede control of the digital essence of the automobile of the future would cut them out of adding the most important value to the product, and probably reduce them to competing with one another to offer commoditized mechanical shells to the technology companies that would own the market.

"It's incredibly important in Detroit that we don't rest on our laurels around manufacturing practices or supply chain and that we think about what the mobility world is going to be," said Chris Thomas, founder and partner of Fontinalis Partners, a Detroit-based venture-capital firm, at the Detroit auto show earlier this year.

"West Coast people would say we have the wrong people here to do that. But we have tremendous expertise in Detroit, and we need to leverage what we were to what we're going to be," said Thomas. "Detroit is well positioned to win in mobility."

Indeed, the companies themselves are signaling how enormous they believe the consequences of this struggle will be. When Apple CEO Tim Cook disclosed in June that the company's highly secretive automotive project indeed is concentrating on developing autonomous systems, it shook both the high-tech world and the auto industry. "We're focusing on autonomous systems, and clearly one purpose of autonomous systems is self-driving cars," he told Bloomberg. "We sorta see it as the mother of all [artificial intelligence] projects … It's a core technology that we view as very important."



We're focusing on autonomous systems, and clearly one purpose of autonomous systems is self-driving cars. We sorta see it as the mother of all [artificial intelligence] projects … It's a core technology that we view as very important.

Tim Cook, CEO, Apple

And former Ford CEO Mark Fields paid the ultimate professional price for not having his company well positioned for this battle. He was ousted last spring by Executive Chairman William Ford Jr., whose family still controls the company, because Fields had failed to move quickly and adroitly enough in the areas of automated driving, ride-sharing, and other "mobility services."

In fact, Ford Jr. installed as Fields' successor the head of Ford Smart Mobility, James Hackett, whose biggest professional achievement had been to turn around office-furniture manufacturer Steelcase as its CEO, and whose second major career accomplishment had been to hire Jim Harbaugh as the University of Michigan's football coach when Hackett was the university's interim athletic director.

Meanwhile, GM's CEO Mary Barra already has been hailed as one of the company's best CEOs ever, partly because of how assertive she has been about moving the company into the self-driving future during her three years at the helm. She directed GM to invest $500 million in Lyft, the major competitor to Uber in the ride-sharing space; to start its own car-sharing experiment, called Maven; and to use the new Chevrolet Bolt all-electric vehicle as a platform for testing 100 self-driving vehicles in the vicinity of the GM Technical Center in Warren, Mich.

Clustering/Joining Forces
The time when this battle climaxes may be years away. For now, automakers and technology companies are clustering together in various ways to test ideas and relationships. Fiat Chrysler Automotive, for example, is supplying Chrysler Pacifica Hybrid minivans that Waymo, the automotive subsidiary of Google, has been using to test its self-driving technology on the highways and byways of greater Phoenix. And most major auto companies have expanded or opened their own research centers in Silicon Valley to be close to tech-company allies as well as to create their own outposts for development work and magnets for attracting the digital-savvy talent they must recruit to remain relevant in the self-driving era.



The bigger picture is that the United States is in competition with other countries and regions more that competition inside the U.S.

John Maddox, president and CEO, American Center for Mobility.

Even at the American Center for Mobility, a new testing ground for autonomous vehicles taking shape around an abandoned airport tarmac in southern Michigan — and heavily funded by the state of Michigan — the talk is of how the two industries can cooperate to create the future. "The bigger picture is that the United States is in competition with other countries and regions more than competition inside the U.S.," says John Maddox, president and CEO of the American Center for Mobility. "We'd like to cooperate with Silicon Valley and with other states and places that want to establish real, meaningful proving grounds. We need multiple such facilities, just as there are many traditional proving grounds around the United States."

But have no doubt that Maddox would like his center to become the premier hub for testing the self-driving technology of the future. The $80 million proving ground for automated vehicles, connected-vehicle platforms, and vehicle-to-vehicle communications covers 335 acres that feature legacy roadways full of potholes, wide-open spaces, variable weather, and even a double-decker bridge.

And U.S. Rep. Debbie Dingell (D-MI) notes that while cooperation with other sites will be important, "Silicon Valley isn't the only place that innovation is happening, and we have to make sure we stay at the forefront in Michigan. Everyone is enamored of Silicon Valley, but we've got the knowhow and the brains here in Michigan too."

In fact, the American Center for Mobility and the Michigan Department of Transportation also have joined their counterparts in Ohio and Pennsylvania, as well as marquee institutions such as the University of Michigan and Carnegie-Mellon University, to form what they're calling the Smart Belt Coalition, aimed at establishing just this sort of regional dominance.

"We know [collaboration] will be necessary as mobility evolves at an exponential pace," Michigan's State Transportation Director Kirk T. Steudle said in a press release. "Working closely with our colleagues in neighboring states will pay dividends for us while we continue to leverage our existing partnerships."