While this past year called for worldwide resiliency and adaptation, foreign investment flows slowed down globally, and Canada was no exception. In fact, global FDI flows plunged by 35 percent in 2020, down to $1 trillion. For comparison, these levels are 20 percent lower than FDI in 2009 after the global financial crisis. Similarly, Canada's foreign investment performance dipped by 49 percent, led by a decrease of 57 percent in FDI inflows from the United States, and Canadian direct investment abroad dropped by 41 percent. Consequently, Canada's source of FDI is now more geographically diverse, with Europe and Asia now responsible for the majority ownership of FDI stock.

Globally, the pandemic and national lockdowns forced multinationals to reconsider new projects and intra-firm financial flows. While, developed economies were subject to a greater decline in the value of FDI, down by 58 percent, developing economies experienced the strongest decline in the number of FDI projects. Indeed, the decline in numbers of new greenfield project announcements and cross-border M&A were more significant in developing countries (42 percent and 24 percent, respectively) than in developed economies (19 percent and 10 percent, respectively).

These numbers could suggest that developed economies are better positioned for a sustainable recovery, as these types of investments are crucial for the development of productive capacity and infrastructure. Interestingly, FDI in developed economies through international project financing is the only type of FDI with growth in terms of numbers, even though they were subject to the largest decline in terms of values. Considering their quick recovery after an initial dip, the growth in foreign project financing should continue along with the currently favorable low interest rates and the access to diverse long-term refinancing programs.

FDI's Flow into Canada
Foreign countries remain invested in Canada's three primary sectors: manufacturing; mining and oil and gas extraction; and management of companies and enterprises (financial holdings). The vast majority of FDI from the U.S. is evenly divided between these three sectors, whereas almost half of FDI from Asia and Oceania is invested in the mining and oil and gas extraction sector. The majority (54 percent) of foreign investment into the manufacturing sector comes from European investors. Canada's total stock of FDI has grown significantly since the 2000s and is now equivalent to 47 percent of its GDP, of which 15 percent is directly accounted for by foreign multinationals. Foreign Multinational Enterprises (FMEs) also account for 12 percent of all employment and three-fifths of trade in goods and services — even though they only represent 1 percent of companies in Canada.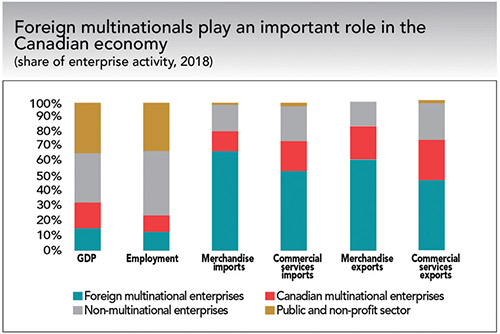 Manufacturing Industry's Continued Advancements
While global investment declined drastically, the pandemic has only accelerated the growing trend in Industry 4.0 projects. Many of CAI's recent projects with manufacturers have been focussed on adopting technology in their operations to allow for increased automation and data exchange. To achieve digitalization and supply chain integration, investments tend to involve smart factory processes, predictive maintenance, 3D-printing, and smart sensors. The surge in Industry 4.0 projects is distributed across different sectors and is reaching record numbers – e.g., there were 838 deals related to computer programming in 2020 alone. This trend furthers the growing manufacturing skills gap, while also reflecting the search for skilled workforces, the main factor driving FDI rather than market accessibility.



Manufacturers have been focused on adopting technology in their operations to allow for increased automation and data exchange.

Despite having no option but to follow the global trend, many studies rank Canada near the bottom in both technology adoption and innovation in manufacturing compared to other advanced economies. Canada must continue its effort of incentivizing investments in transforming industry, as finding the right talent will only get harder for the sector as it is expected that more than a quarter of the manufacturing workforce will retire by 2030.

The federal government has recently renewed its commitment to helping firms adopt Industry 4.0 processes by increasing funding for two critical innovation programs. The Strategic Innovation Fund (SIF) will receive over $7.2 billion across seven years beginning this year, while the Superclusters program will see an additional $60 million over two years. These programs have allowed the government to support companies looking to make viable investments in automatization and research and development in Canadian manufacturing.

On the provincial level, Quebec augmented its Credit for Investments and Innovation (C3i) by temporarily doubling its tax credit rate to 40 percent. The program was introduced in the 2020 Quebec budget and is intended to provide additional incentives for investments in manufacturing or processing equipment and computer equipment. Lastly, Ontario's 2021 budget introduced an investment of $400 million over four years to create the Invest Ontario Fund supporting investments in advanced manufacturing, technology, and life sciences through programs related to R&D, site selection, and workforce.



Companies are not only describing their ideal location as having the best availability of skilled workers but aiming for diversity among a region's workforce

Looking for Workforce Diversity
CAI's experiences with international investors also revealed a new complement in location selection: demographic diversity. Companies are not only describing their ideal location as having the best availability of skilled workers but aiming for diversity among a region's workforce. With less than a third of the manufacturing positions filled by women, the challenge to attract skilled and diverse employees forces companies to use more specific demographic data to locate themselves strategically.

CAI is looking for diverse demographics, a broad talent pipeline with a high proportion of STEM graduates, as well as specific industry-related programs. Even in 2018, manufacturers were ranking STEM and analytical skills above mechanical and technical skills as more desirable for their employees. While leading the OECD rankings in percentage of population with tertiary education, Canada remains below the G7 average in terms of proportion of graduates in STEM programs, but it can continue to count on immigration for talent with a record half-year in terms of the numbers of invitations issued to Express Entry candidates qualified as high-skilled workers. This further complements the demographic diversity of Canada.

Global Supply Chain Disruption: An Opportunity
Additionally, the pandemic has quickly awakened companies to the vulnerabilities of their supply chain to sudden restrictions, delays, and drastic rises in shipping cost. Through network restructuring to rebalance international production, supply chains have become a bigger factor in production location decisions for Canadian manufacturers. Canada's proximity to the U.S. market is an advantage, with the increased reshoring of American multinationals.



The geographic diversity of Canada also has a lot to offer multinationals looking to relocate closer to suppliers and resources.

The geographic diversity of Canada also has a lot to offer multinationals looking to relocate closer to suppliers and resources. For example, supply chain regionalization has already begun with electric vehicle manufacturing. The auto industry's growing shift to Canada due to its auto parts market and abundance of natural resources required for producing electric vehicle batteries reinforce Canada's position as a leader in the industry's supply chain, just as it is in many other industries.

In Sum
Consistent with global post-pandemic performance, Canada's FDI faced a temporary setback. The economic recovery will depend on how the federal and provincial governments take advantage of new global trends in project financing and smaller cross-border mergers and acquisitions, as well as support sustainable investments in adaptation. Although lagging in terms of technology adoption in manufacturing, the tools are here to help innovation be financially viable. Furthermore, Canada is well-positioned given site selection requirements shifting toward requiring a diverse and knowledgeable workforce, along with the reshoring of American multinationals closer to their supply chain needs.