With aggressive project schedules becoming the industry norm, efficiency is more important than ever. Recently, many industrial manufacturing companies have changed their approach to project delivery, drawing inspiration from the popularity of lean manufacturing processes.

Integrated project delivery (IPD), in particular, is increasingly common. Under the IPD model, the owner, design team, procurement team, estimators, construction team, suppliers, and others come together early in the project. Everyone is a stakeholder and risks and rewards are shared. Collaboration is emphasized, and goals are developed jointly to optimize project results, minimize risks, reduce waste, and improve efficiency.

Collective incentives maximize value for the owner compared to traditional project delivery, in which each participant focuses exclusively on his/her portion without considering the implications on the whole process. An integrated approach aligns process and facility design from the beginning, providing a single solution for production operations and the facilities and utilities that surround it. IPD focuses on the final value created for the owner — the finished building — and it engages owners very early in the process.

Owners and industrial manufacturers who get their production facilities up and running faster can beat their competition to market. This is particularly important today, when many companies are entering new markets or are looking to build their global footprint.

The integrated approach to project delivery can also enhance construction and operational safety. Construction risks can be minimized by reviewing complex project details and developing processes and procedures before construction starts on site.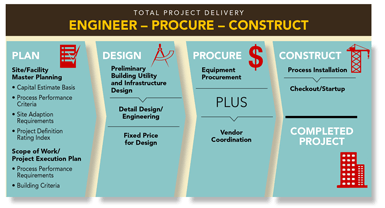 The Underpinnings of IPD
Underpinning IPD are the technological changes that occurred over the last two decades. Communication has become much easier, not only in terms of conversations, but in terms of collaborating and conveying complex ideas.

Improvements in communication among construction team members are enabled by building information modeling (BIM) and other software. More than simply another desktop software, BIM is a set of processes. Whereas project teams formerly depended on independent, two-dimensional renderings, BIM offers integrated virtual models that incorporate technical, physical, graphic, environmental, and operational data. Collaborative websites and mobile devices allow users increased accessibility and the ability to keep all communications, documents, drawings, and other types of electronic files in one place. Through the use of version control, users are able to view and mark up files online without the need for native software.

Without these types of collaboration software, the practical implementation of IPD would be difficult. Disparate teams and stakeholders would find it time-consuming and costly to share files, drawings, communication, and workflows in a controlled, reliable, and auditable way. Technology has evolved to automate many of the processes involved in IPD, enabling project confidence, mitigating risk, and accelerating project delivery.

Beyond its use in IPD, BIM has the potential to add value for owners by providing models to be used for facility management and operations. As BIM allows easier storage and transfer of information, it can also support a more seamless transfer from the end of the construction phase into long-term facility management and operation. The technology brings the true benefits of collaboration on board at the onset of a project, where it can pay the biggest dividends to both the owner and the project team.

Development of IPD
The IPD system was created in the mid-1990s and many of its principles were adapted from lean manufacturing processes. The originators of the process believed that by working as one unit, the owner was better served and the construction project was completed faster, cheaper, and without the typical stress.

Development of the IPD system was especially driven by the construction industry, which had been suffering from a productivity decline for decades. The IPD approach combats industry problems — such as schedule and budget insufficiencies or adverse relations among involved parties — by allowing informed decision-making early in the project where the most value can be created. Collaboration eliminates design waste and allows data sharing between the design and construction teams, eliminating a significant barrier to increased productivity.

IPD lent itself to the delivery of large capital projects in the industrial and manufacturing sectors, and these sectors are seeing some of the greatest gains from IPD today. While typical IPD projects consist of different companies coming together to form a team, industrial manufacturing owners are increasingly turning to a single integrated company to deliver their projects. These engineering, procurement, and construction (EPC) firms are capable of offering a collaborative and integrated approach to project delivery. They integrate overall project planning, design, procurement, and construction to create cost-effective capital solutions. Since an EPC firm's design and construction professionals are all in-house, clients can benefit from a true collaboration of disciplines. Ultimately, the integrated approach offers owners competitive pricing, a fully engineered project, and quality construction.

Implementing IPD
Changes to "business as usual" have happened so fast that, despite the efficiencies and improved outcomes associated with IPD, company cultures sometimes have a hard time adapting quickly enough to fully leverage these advantages. There are, however, concrete steps that can be taken to pave the way for a more successful transition to the IPD method.

The first step is placing value on trust. As parties are united through contracts and an equal, shared commitment to the project's success, trust is a key component in working together successfully and minimizing conflict. A second element is the desire to consistently analyze projects for opportunities to eliminate waste, identify savings, create efficiencies, and improve the facility's lifecycle performance. Examining similar projects that could have benefitted from the IPD method helps provide the motivation to implement IPD for future projects with similar scopes. Further, helping internal parties understand the differences between IPD and other delivery methods will help to ease some of the discomfort that occurs when adopting a new process. By understanding participants' concerns and involving them in discussions, the various parties will better understand how collaboration can be used to improve the delivery of capital projects.

Sometimes the transition to IPD can be undertaken in stages. If a project does not lend itself to full-fledged IPD, or a company is looking to "test the waters," there are opportunities to integrate elements of IPD without the full delivery method. This type of implementation considers IPD as a philosophy, not a delivery method, and it reflects an owner's interest in collaboration and its inherent benefits. A crucial consideration in this situation, however, is to carefully define the collaboration so all parties clearly understand the expectations.

IPD in Practice
At the nexus of the IPD process is a project delivery team that engages with the owners early in the planning phase and works with them throughout the capital expansion program. An EPC firm has an integrated staff that includes engineers, estimators, procurement, preconstruction, and construction professionals who can help industrial manufacturers with front-end planning and develop a road map for a successful project. This planning can include help with process design, facility, utilities, site analysis, cost estimating, procurement planning and sourcing, operations, and even maintenance and facilities management planning. The owners always benefit from this planning whether they use internal resources or an EPC firm. The important thing is that a qualified team with relevant expertise is engaged early to establish a viable plan for delivering the project.

The traditional approach to project delivery, with its separate workflows and hierarchies, kept the flow of communication manageable in a pre-electronic work environment. But the days of keeping each aspect of a capital project separated are a thing of the past. IPD is helping industrial manufacturers reduce risk, achieve predictable results, and maximize the effectiveness of capital funding. It can be successfully used for grassroots projects, facility expansions, major upfits, and relocation projects.