In order to continue to meet high levels of demand and remain globally competitive, the aerospace industry must continue to maintain the highly skilled workforce it requires, while keeping labor costs competitive. Arlington, Texas' assets help make this possible. Workforce development areas in and around Arlington provide an ample supply of leading occupations required to support the sector. In addition, the region's wage rates compare favorably to national levels.

Centrally located within the Dallas-Fort Worth metropolitan area, Arlington is at the center of the region's aerospace cluster. Minutes from DFW International Airport and home to the region's corporate airport of choice, Arlington is surrounded by the state's highest concentration of aerospace manufacturing workers, the headquarters of two major airlines, and operations of major aircraft manufacturers, including Boeing, Lockheed Martin, Raytheon, and Bell Helicopter.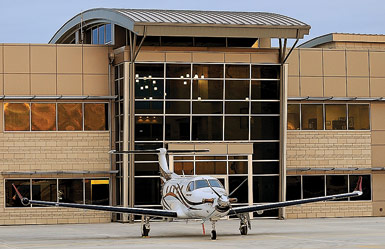 Beyond a concentration of firms and employment, Arlington offers access to a dense network of higher education institutions. Chief among these is the University of Texas (UT) at Arlington, the second-largest institution in the UT system, where research activities, engineering strengths, and early-stage product development are assets for the continued support of the region's aerospace manufacturing and aviation industry — and companies are taking notice.

L-3 Communications, a leader in the aircraft simulation and training industry; Progressive, a global player in the aerospace industry; and Triumph Aerostructures-Vought Aircraft Division, a leading global manufacturer, represent just a few of the key aerospace companies taking advantage of Arlington's workforce and educational strengths.

"To succeed, a company has to grow and that's exactly what we have been able to achieve by having our headquarters in Arlington, Texas," says Lenny Genna, president of L-3 Link Simulation & Training. "Recently, we added capability in Arlington with a new 27,000-square-foot facility where we're building flight simulators. We benefit by having a close working relationship with UT at Arlington, which serves as a source of qualified new workers and as an educational resource that allows our employees to gain advanced degrees.