With more than 100 aerospace companies, a network of 15 community colleges, and world-class research institutions, Mississippi's aerospace companies are positioned to climb to new heights of success and innovation.

"I've always considered the state of Mississippi as a business partner to Airbus Helicopters," says Earl Walker senior director of business development and government relations for Airbus Helicopters. "It's been very easy to negotiate around through the channels with the state to get things to meet our challenges and to meet our needs."

In less than a decade, Airbus Helicopter's workforce training partners at East Mississippi Community College and the state have developed specific training programs that have built a superior and sustainable workforce, Walker says.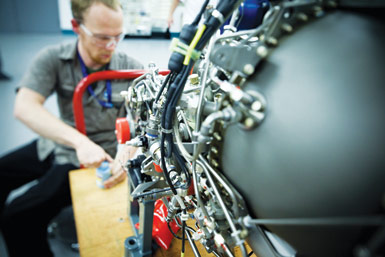 GE Aviation is another example of a global aerospace leader thriving in the state of Mississippi. In 2013, the company opened its second manufacturing facility in the state, investing $56 million and creating 250 jobs in the company's Ellisville plant.

Mississippi's innovative approach to helping companies solve challenges while building a skilled workforce is a tremendous benefit to his entire organization, GE's Ellisville Plant Manager Nate Beach notes: "One factor around workforce development that I think puts Mississippi ahead of the pack is really the responsiveness and willingness to customize to meet the exact needs of the business. It's not a cookie-cutter approach. The partnership we have with the state and with the community college system around workforce development is really top-notch. It's been benchmarked by other companies, by other sites within GE in other states, and it is really held up as a best practice for how workforces should be developed."

While established industry leaders like GE Aviation, Rolls-Royce, Airbus Helicopters, and many more continue to grow in Mississippi, the state also is leading the way in the next frontier of aviation — unmanned aerial systems (UAS).

Mississippi State University recently was named the FAA's Center of Excellence for Unmanned Aircraft Systems, which will integrate UAS technologies and policies into our national airspace. The Center of Excellence will pave the way for Mississippi to open new economic opportunities in aerospace and aviation.

Mississippi's distinct business advantages help global aerospace leaders in the state remain competitive in this dynamic and complex industry sector. Whether a company needs access to a productive and skilled workforce or to the latest research and development, innovation, and testing opportunities, Mississippi provides the edge these companies need to meet worldwide demand for their products