Expansion and Relocation Plans
Although expansion plans as reported by corporate respondents have increased slightly on a year-over-year basis (39 percent to 43 percent of the respondents), fewer of the respondents to our 30th Annual Corporate Survey expect to expand an existing facility than open a new facility (49 percent). Of those with expansion plans, 79 percent plan to expand an existing domestic facility, with just 12 percent saying they plan to expand an existing foreign facility.

About 70 percent of those respondents who plan to expand an existing domestic facility will do so within the next two years, with nearly 80 percent expanding one or two domestic facilities, and 85 percent of the respondents claiming the domestic expansions will create fewer than 100 jobs.

All of the respondents with plans for expanding foreign facilities will do so within one to two years, with 80 percent of these respondents saying they plan to expand just one or two foreign facilities. Interestingly, though, these expansions of foreign facilities will create between 100 and 499 jobs, according to three quarters of the respondents to this question.

Overall relocation plans, on the other hand, are not as robust. Just 29 percent of the respondents to our 30th Annual Corporate Survey say they plan to relocate an existing facility within the next five years. Of those respondents with relocation plans, 83 percent say they plan to relocate an existing domestic facility within the U.S., with more than half having one- to two-year plans to do so. The primary reasons for relocating domestically are new markets/market proximity (cited by more than 40 percent of the respondents), and labor availability and labor costs (each cited by a fifth of the respondents).

Nearly all (94 percent) of the Corporate Survey respondents have no plans to relocate a domestic facility to an offshore or near-shore location. The slight percentage who do plan to relocate offshore cite tax concerns as their incentive to move.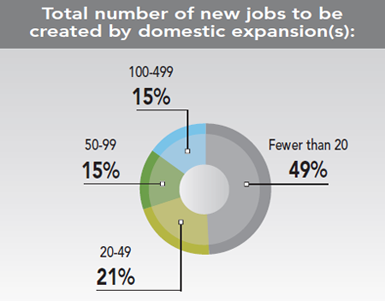 30th Annual Corporate Survey Results
Figure 1

Figure 2

Figure 3

Figure 4

Figure 5

Figure 6

Figure 7

Figure 8

Figure 9

Figure 10

Figure 11

Figure 12

Figure 13

Figure 14

Figure 15

Figure 16

Figure 17

Figure 18

Figure 19

Figure 20

Figure 21

Figure 22

Figure 23

Figure 24

Figure 25

Figure 26

Figure 27

Figure 28

Figure 29

Figure 30

Figure 32

Figure 33

Figure 34

Figure 35

Figure 36

Figure 37

Figure 38

Figure 39

Figure 40

Figure 41

Figure 42

Figure 43

Figure 44

Figure 45

Figure 46

Figure 47
Similarly, only 10 percent of the respondents are planning to relocate a foreign facility back to the U.S. Fifty percent of these respondents cite costs (labor, energy, transportation), product quality issues, as well as intellectual property protection concerns as the reasons they are planning to reshore facilities.

Interestingly, the latest U.S. Reshoring Index for A.T. Kearney indicates that offshoring of U.S. manufacturing production continues to grow at a faster pace than reshoring of production to the United States (although some, including those with the Reshoring Initiative, take issue with A.T. Kearney's finding of lackluster reshoring).

A.T. Kearney could only identify 60 factory operations returning from offshore to the U.S. in 2015, with many returning to an existing facility. According to A.T. Kearney Partner Patrick Van den Bossche, "The reshoring phenomenon, once viewed by many as the leading edge of a decisive shift in global manufacturing, may actually have been just a one-off aberration." Contributing to this lack of reshoring, he adds, is a lack of skilled workers and "service provider ecosystems that had disappeared years ago."

Site Selection Priorities
We asked those responding to our 30th Annual Corporate Survey to rate the factors they consider when making their new facility, expansion, and relocation plans as either "very important," "important," "minor consideration," or "of no importance." We then added the "very important" and "important" ratings in order to rank the factors in order of importance.

Our Corporate Survey respondents' number-one concern is availability of skilled labor, considered "very important" or "important" by 92.9 of the respondents, up 10.8 percentage points (the greatest increase overall) from the prior year's survey, in which this factor had ranked fifth — a ranking that we considered somewhat of an aberration. This factor also trumps labor costs, ranked sixth by our survey respondents with an 80.8 percent combined importance rating. With lower unemployment and a slowly growing economy, wages are starting to rise — but finding workers with the right combination of skills still takes precedence.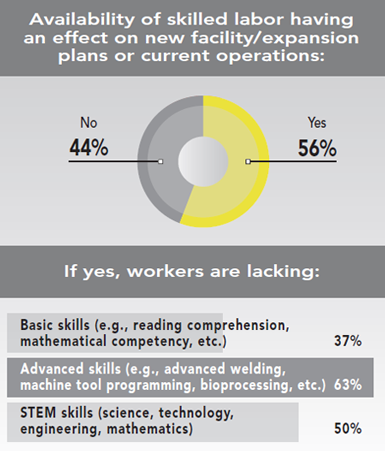 Each day the media contains stories of companies stressing the importance of finding a skilled labor force for their current and future needs. For example, Archer Daniels Midland (ADM) Chief Information Officer Marty Schoenthaler recently explained, "The decision on where to locate our new technology center rested heavily on where we could find the talent." On January 18th he told IndustryWeek the company choose Northern Kentucky for its new technology center because "when you have an established pool of large multinational companies, experienced technical talent is attracted to the area."

This explains why more than half (56 percent) of our Corporate Survey respondents say that availability of skilled labor is having an effect on their new facility and expansion plans. It's also why 68 percent of the respondents say they consider whether there are businesses performing activities similar to those of their company in the area of search.

When it comes to labor skills, nearly two-thirds of our Corporate Survey respondents say workers are lacking advanced skills such as advanced welding or machine tool programming. Half the respondents also say workers are lacking the critical STEM skills.

The second-ranked factor in our 30th Annual Corporate Survey is highway accessibility, which has historically been ranked as a top factor (last year it was ranked first). Fully 88 percent of the survey respondents rated this factor as "very important" or "important." Infrastructure factors "will continue to grow in importance as we become even more of an economy where just-in-time manufacturing and distribution of goods are more critical," says Larry Gigerich, managing director of location consulting firm Ginovus.

Related to distribution is proximity to major markets, considered "very important" or "important" by more than three quarters of the survey respondents and ranking eighth among the factors. Remember, the main reason the survey respondents say they are relocating domestically is new markets/market proximity, cited by 41 percent of the respondents.

For our 30th Annual Corporate Survey we did not ask our survey-takers to separately rate the importance of quality-of-life factors including climate, housing availability and costs, healthcare facilities, ratings of public schools, cultural and recreational opportunities, colleges and universities in area, and crime rate. In the prior year's survey none of these factors was considered "very important" or "important" by fewer than 60 percent of the respondents. Our current survey respondents give overall quality of life an 87.6 percent combined importance rating, placing in third among all the site selection factors! It seems the importance of quality of life has steadily been creeping up.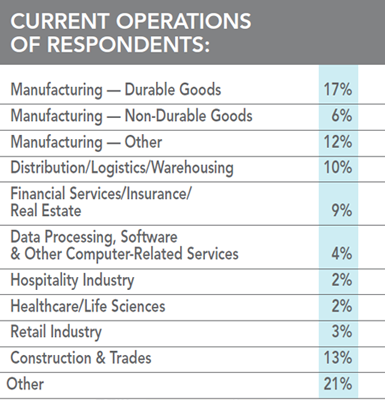 This might be a reflection of the composition of respondents. Just as the industrial composition of the U.S. labor force has changed, Area Development's respondent pool has changed over the survey's 30-year history from one comprised primarily of manufacturing firms to one now representing a more diverse, service-based sector. Added to that is the cultural shift among generations — i.e., today's workers (mainly millennials) want more of a work-life balance than those of previous generations.

Although occupancy and construction costs vary among markets, these cost factors are always top of mind for companies building or expanding facilities. This factor received an 85.4 combined importance rating from our Corporate Survey takers and ranked fourth among the site selection factors.

With companies requiring quick turnaround times once the decision to open a new facility or expand is made, they often look for available buildings. This factor ranked fifth, considered "very important" or "important" by 83.7 percent of the respondents to our Annual Corporate Survey. If a company can find an existing facility that works for them, and they can upgrade and occupy it quickly, they will often choose the existing building instead of constructing a new one.

The "tax" factors also rank highly: Corporate tax rate is ranked seventh by the respondents, with a 78.8 percent combined importance rating; state and local incentives is ranked ninth, with a 75.8 percent combined rating; and tax exemptions is ranked 11th, with a 74. 7 percent combined rating. Nearly two thirds of the respondents say tax incentives are considered most important when making a location decision, with nearly 70 percent saying incentives are very or somewhat important to a project moving forward in a particular location.

Rounding out the top-10 factors is energy availability and costs, with a 75.3 percent combined importance rating. In fact, more than 70 percent of the Corporate Survey respondents say they are making energy-saving modifications to their facilities to keep costs down.

Although only rated "very important" or "important" by slightly more than half of the respondents to our 30th Annual Corporate Survey, water availability shows the second-largest increase in combined importance, increasing 10.6 percentage points and now considered "very important" or "important" by 54.6 percent of the survey respondents. This factor keeps rising in importance as problems with water availability and quality — take for example the crisis now occurring in Flint, Michigan — keep drawing the attention of companies making location decisions.

A 2014 survey of major U.S. corporations by the Pacific Institute and VOX Global found that 60 percent of companies believe water challenges will negatively affect business growth and profitability within five years, as reported by the U.S. Chamber of Commerce Foundation. More than 80 percent said it would affect their location decisions. Five years prior, fewer than 20 percent responding to the organizations' survey expressed concern about water risks.

The factor showing the largest decrease in importance rating (11.8 percentage points) and dropping from third in the rankings to 13th is available land, considered "very important" or "important" by 73.9 percent of the Corporate Survey respondents. Available land is much more important to a large manufacturing project going forward than to an office facility, for example, where an available building might be a better fit. Considering the fact that manufacturers represent just 35 percent of the survey respondents, the decrease in importance of this factor is more understandable than its high rating and ranking in the prior year's survey.

The right-to-work state factor shows the second-largest drop in the ratings (decreasing 10.2 percentage points) and rankings (from seventh to 16th). Our Corporate Survey respondents give this factor a combined importance rating of 67.7 percent. Half the states now have right-to-work laws in place, and others — like Kentucky — have local right-to-work laws at the county level. Additionally, in many states that are not right-to-work, unionization rates are low, making this factor more of a non-issue.

Next: The Location Decision Process