Editor's Note:This article was commissioned by the Tennessee Department of Economic and Community Development, which approved and paid for this posting.


In all, there are 18 companies headquartered in Tennessee that make Fortune magazine's ranking of the country's 1,000 biggest. It's a diverse set of major players, led by FedEx and featuring a strong showing of healthcare companies, but also some big names in retailing and manufacturing.

Tennessee has an enviable showing of corporate operations that have high-quality, high-paying jobs. And as the headlines from 2018 and 2019 indicate, the good headquarters news keeps on rolling in.

Back in 2018, Amazon announced it would locate a major operations and logistics office hub in Nashville. The e-commerce giant is investing $230 million in Nashville and plans to create 5,000 high-paying jobs. But Amazon is just part of the picture. Tennessee is in the midst of a string of substantial headquarters investment by international companies. Since 2013, there's been 40 percent growth in the number of headquarters jobs in Tennessee, the fastest such growth in the Southeast.

"Tennessee has cemented itself as a destination for headquarters operations for a whole host of businesses — from healthcare and automotive, to financial services and logistics providers," said Bob Rolfe, the commissioner of the Tennessee Department of Economic and Community Development. "First and foremost, Tennessee has a tremendous value proposition for companies that operate in high-cost states: low business taxes, no personal income tax, and a skilled workforce."

New Headquarters Facilities
Beyond Amazon, another eye-opener in 2018 was the decision by asset manager AllianceBernstein to shift its corporate headquarters away from midtown Manhattan and into Nashville, a deal announced that May. More than a thousand AllianceBernstein jobs are to eventually shift from the Big Apple to Music City. The transition got off to a quick start, with more than 300 jobs moving to Nashville within the first year after the announcement.

The list of roles moving to Tennessee include the job of the president and CEO, Seth P. Bernstein, who said recruits and employees making the move would appreciate Tennessee's lower taxes and living expenses and the promise of shorter commutes. "We see Nashville as a game-changer in terms of our ability to source, develop and retain talent, provide a high quality of life for our employees, enhance our competitive edge in an increasingly challenging marketplace, and make a lasting impact on our new community," Bernstein said in making the initial announcement.

Those were some of the big corporate office headlines of 2018, and the winning streak has continued in 2019. During the first several months of 2019, multiple companies announced plans to locate or expand headquarters operations in Tennessee. The investments total nearly half a billion dollars, and the job commitments add up to approximately 4,500.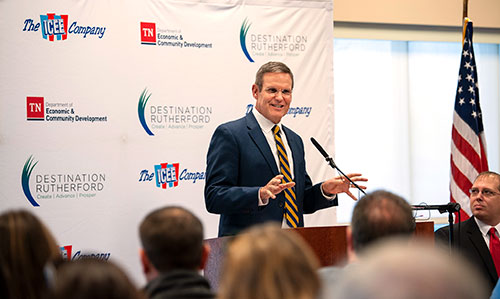 "Our quality of life and cost of living make Tennessee a place where skilled workers and people want to live," TNECD's Rolfe said. "In places like Memphis and Nashville, companies are taking notice of all the talent that is moving there. We've had incredibly strong population growth in the Greater Nashville region in recent years. That has certainly played a crucial role in the string of major headquarters wins Tennessee has had."

For example, Mitsubishi Motors North America in June announced plans to move its headquarters from California to Franklin, in the southern part of the Nashville area. It's a headquarters deal that will bring 200 jobs. "In searching across the country for the best place to move our headquarters office to, choosing Franklin checked all the boxes that were important for Mitsubishi and our employees," said Jeremy Barnes, the company's senior director of communications. Those boxes, he said, include "the cost of doing business, cost of living, lifestyle, schools, climate and all the things that will make our current employee team want to move, as well as the business climate the city of Franklin and the state of Tennessee offer."

Barnes cited the area's "strong automotive-focused worker pool: VW, Nissan, GM, Calsonic, Hankook Tire, and others all have operations in the area," he said. "More important, the area offers a worker pool that is focused on other aspects — customer satisfaction, new business-thinking, brave new ways of doing business — that will be critical to the future of the Mitsubishi brand in the U.S."

Remarkably, Mitsubishi is just one of at least five California companies that announced plans to establish headquarters operations in Tennessee in the first part of 2019. Another was the ICEE Co., which makes the popular frozen guilty pleasure known as ICEE. Its plans include bringing some 200 jobs to La Vergne. In making the announcement, CEO Dan Fachner said Tennessee is a business-friendly place to be, and its central location happens to be near a lot of vendors that sell ICEE slushy drinks. "If you took Middle Tennessee and then took a 1,000-mile radius, 75 percent of our customers are within that 1,000-mile radius. We think this is a great spot for us."

Harrow Health, meanwhile, was based in San Diego but announced in June that its headquarters was on the move to Nashville. It's a 30-job deal, reflecting what the company's leaders call a business climate that is "second to none."

Also in the healthcare sector, Medacta USA picked Franklin for its headquarters, making the move from Chicago. According to Matthew Goudy, general manager at the orthopedic and medical-device–maker, "The Greater Nashville area combines a deep talent pool in the healthcare and tech space with close proximity to some of the world's best orthopedic researchers and practitioners at leading medical institutions."

The bookkeeping software firm Pilot.com picked Nashville for its account management headquarters, which is bringing 450 jobs. It's a San Francisco company but was looking for a second operational hub. The company determined that the area has "great schools; attracts incredible, diverse talent; and is making smart investments to support its burgeoning startup scene," according to founder Jessica McKellar.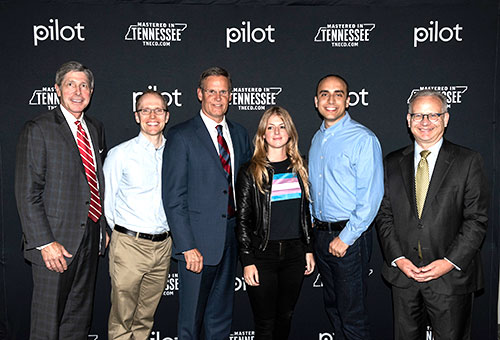 Headquarters Expansions
The first part of 2019 also brought some significant announcements of headquarters expansions for companies already operating in Tennessee. For example:
The FedEx Corp. subsidiary FedEx Logistics in February said it would move its headquarters to downtown Memphis. The plan consolidates operations from across the area into one location. It's moving into what once was a Gibson Guitar facility, where it plans to invest $44 million and create up to 700 jobs. Company leadership said the new facility will be ideal for continuing to attract top talent.
JNJ Express announced plans for a new corporate campus in southeast Memphis. The logistics firm said the expansion would create more than 600 jobs and involve an investment of nearly $84 million.
Western Express Inc. announced plans to create as many as 225 headquarters jobs over five years. It's expanding its Nashville headquarters and pumping in $88 million in the process.