Just when it seemed that every feasible automaker lately had announced initial or increased investment in manufacturing in North America, one more entered the fray: Volvo. Even though the brand's U.S. sales are barely half of what they were several years ago, and Volvo has disappeared from the car-shopping lists of most Americans, the Chinese-owned, Sweden-based company announced in March that it is going to build an assembly plant in the United States and spend about $500 million to do it.

"Volvo Cars cannot claim to be a true global car maker without an industrial presence in the U.S.," said CEO Håkan Samuelsson in explaining the company's surprising decision to build an American plant, which would be its first. "Today, we became that."

Overhauling and Expanding Auto Plants
And so it goes in the ongoing expansion and redrawing of the map of automotive manufacturing in North America. Both domestic and foreign-owned carmakers continue to overhaul and expand their plants in order to keep up with the stubbornly vibrant U.S. auto market as well as, increasingly, to export vehicles whose manufacturing quality now matches anything abroad. The South and Southeast as a mega-region now rivals the traditional industrial Midwest and Plains States for most output. The mammoth Tesla battery plant now under construction near Reno, Nevada, gives auto-component production another, still-rare outpost in the West. And humming factories in Texas are helping stretch the boundary of America's automotive footprint south nearly to the Rio Grande.

"Tesla going to Nevada was…almost exclusively an incentive play" as the company garnered nearly $1.3 billion in financial concessions by the state, says Larry Gigerich, managing director of site selection consultant Ginovus. "But Texas probably has an opportunity to become a bigger player in the auto industry due to its ability to support the West Coast and yet still supply the Midwest, Southeast, and Mountain regions of the U.S.," he says.

However, American manufacturing in Texas and elsewhere is being pressed by the fact that the rise of automotive production in Mexico these days is more dynamic than anywhere else on the globe. Carmakers increasingly are being lured there — often instead of siting new production in the United States — by labor costs that are nearly as low as China's, quality levels that compete with America's, logistic simplicity with proximity to both the Atlantic and Pacific oceans, and Mexico's negotiation of more than 40 different free-trade agreements that give exporters from Mexico duty-free access to markets that contain 60 percent of the world's economic output.

All told, automakers and parts suppliers have earmarked more than $20 billion of new investments in automotive manufacturing for Mexico, and industry analysts see Mexico's current annual production of 3.2 million cars and light trucks rising by more than 50 percent to five million by 2018. There have been seven new assembly plants announced in Mexico since 2009 and only one in the United States. The automakers beefing up Mexican output include Nissan, General Motors, Ford, Fiat Chrysler, Mercedes-Benz, and Volkswagen. Parts suppliers include Magna International, which recently began construction on a $135 million automotive-exteriors plant in Queretaro, in central Mexico.

Continued Strong Auto Sales
For now, it's mostly the continued strong growth in U.S. vehicle sales that is behind new manufacturing investments all over the continent. Sales grew for the sixth straight year in 2014 as they rebounded steadily out of the Great Recession, and most economists look for another gain in 2015 — probably even approaching the record pre-recession total of 17 million units. In fact, the U.S. market now is seen globally as the glimmering and reliable star of a sales picture that includes continuing struggles in Europe and slowing growth in China.

Volvo isn't alone in searching for a site for a potential new U.S. assembly plant. Jaguar Land Rover also has been sniffing around for a possible assembly plant location. Such a plant likely would be in the South. And why not? Hyundai has announced plans to expand its factory in Alabama to ramp up output of sport-utility vehicles. And BMW said it would spend $1 billion to boost production at its South Carolina plant by 50 percent by next year, the fifth expansion there.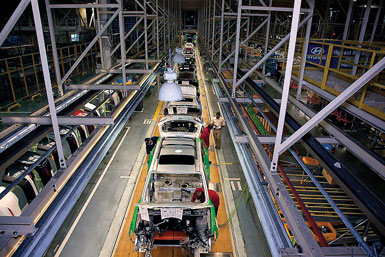 Volkswagen plans to add output at its plant in Chattanooga, Tennessee, despite having two off years in U.S. sales. Daimler will build the next-generation Mercedes Sprinter van in a new plant in South Carolina, reports say, after deciding to move its U.S. administrative headquarters to Atlanta from New Jersey. And Nissan has announced a new $160 million supplier-park project at its assembly plant in Smyrna, Tennessee, which is expected to support more than 1,000 new parts-making jobs.

At the same time, Midwestern and Plains States keep picking up additional investments by not only General Motors, Ford, and Fiat Chrysler, but also Toyota, Honda, and other Asian automakers that long have had a big presence in the region. GM indicated in April that it planned to spend more than $1 billion to expand and upgrade its iconic Technical Center in Warren, Michigan, and to create more than 2,000 jobs at the site. And in Missouri, for instance, the Detroit Three and suppliers have invested more than $2 billion in the auto sector over the past few years and created thousands of new jobs.

"The Midwest is home to large, well-established OEMs and their supplier bases, so new capacity additions there are perhaps more likely to involve existing facility expansions," says Andy Mace, managing director of Global Business Consulting, Supply Chain Solutions, for Cushman & Wakefield. "New, large-scale greenfield investments are more likely in the Southeast given the region's demonstrated ability to offer ample land and infrastructure resources, lower labor costs and [lower] union presence, an expanding supplier base, robust workforce-training programs, and business-attraction incentives. In addition, proximity to ocean ports in the Southeast provides strong inbound and outbound connectivity to overseas suppliers and customers."

One factor that U.S. automakers and economic development officials will be watching, however, is the steady rise of the dollar over the last year. Because of the weakening of the euro against the dollar in that time, for example, some executives of Germany-based Daimler are said to favor recalibrating the company's ambitious plans to expand output in the United States.

New Aerospace Boom
There's also been a geographic reshaping of a U.S. aerospace industry that is enjoying its biggest expansionary era in many years, albeit less extensive than the reshaping taking place in the auto sector.

The aerospace manufacturing sector has rebounded in the United States after the Great Recession and pullbacks in federal defense spending, with more than $25 billion in investments since 2012, according to the ICF International consulting firm. Jobs and manufacturing work that had been moving to China and other sites have begun moving back to the United States over the last three years.

"Three years ago it looked like everything was heading to China," Kevin Michaels, aviation consultant for ICF, told IndustryWeek. "Now that's changed…The U.S. at this point in time has become the hot spot in aerospace manufacturing."

Seattle-based Boeing and Europe-based Airbus, of course, are the big players in global aerospace manufacturing, so their strategies and activities outline the new boom in the industry in America.

Boeing last year snared the biggest single tax break any state has ever given to a single company when it got Washington Governor Jay Inslee to sign a package of incentives valued at $8.7 billion over 27 years, designed to keep tens of thousands of Boeing jobs in the Puget Sound region and ensure that Washington would remain the geographic anchor for the company for decades to come. Yet the company subsequently said it would move about 2,000 high-paying engineering jobs in its defense division — not covered by the Washington incentives — from the Seattle area to facilities in Oklahoma City and St. Louis by 2017.

Meanwhile, Boeing also is investing another $1 billion in Phase 2 of its plant in North Charleston, South Carolina, where it plans to as much as triple construction of 787 Dreamliner jets, potentially doubling employment. The biggest significant caveat is the election to be held in late April to determine whether the plant would be unionized by the Machinists union.

So important does Governor Nikki Haley consider the election that she had warned about it in her State of the State address in January: "I cannot express to you the extent to which this is a game-changer when we are trying to bring new businesses to our state," she said. "We have a reputation — internationally — for being a state that doesn't want unions."

Meanwhile, Airbus is opening a production line in Mobile, Alabama, creating 1,000 new jobs to produce a new A320 airplane that is expected to begin rolling out of the $600 million facility in 2016. "Alabama's biggest opportunity in 2015 could lie in the aerospace industry," Governor Robert Bentley says, noting that his economic development team has targeted supplier and spinoff jobs from the Airbus project.

"The aerospace industry will resemble autos in terms of where the growth takes place," according to Gigerich. "The legacy aerospace investment is on the West Coast and a couple of other states, but the South is on the map now in terms of aerospace."

As aerospace burgeons again, still other, more unlikely states are trying to get bigger pieces of the action. For example, Raytheon announced in March that it planned to expand its operations in Indianapolis, creating 250 jobs over the next few years to support various military platforms, technologies, and products. And Florida leaders are talking up the state's proximity to major aircraft facilities, military bases, and aerospace and defense companies that already are in the state.