Technology and innovation are reshaping industries across the world at a breathless and breakneck speed. 3D printing or additive manufacturing is one technology that has revolutionized the automotive industry. Significant advances in the field over the past decade have transformed the design, development, manufacturing, and distribution processes in the sector. They have made way for novel designs, lighter and safer products, shorter lead times, and lower costs.

Hence, 3D printing has become the darling of the automotive world, enhancing the functionality and value of existing products in every way. The concept seems new but has been around for more than 30 years. It involves a process where 3D design data described in a digital file is used to develop a component by depositing materials in layers. The materials used in 3D printing include a wide range of metals, plastics, and composite materials.

The market for automotive 3D printing has been experiencing phenomenal growth over the years since the advent of the technology. A report by Allied Market Research states that the automotive 3D printing industry is likely to reach $2.73 billion by 2023, growing at a CAGR of 19.7 percent from 2017 to 2023. The need for efficient management of logistics, as well as reduced manufacturing time and associated costs, is driving the demand for the industry. Therefore, 3D printing exhibits wide applications within the sector for prototyping and tooling, research and development, and product innovation. On the other hand, the market faces certain challenges such as high cost of 3D printing software and the dearth of skilled labor.

The additive manufacturing field is highly competitive and, therefore, large and small players in the space focus on specific capabilities that can lead to greater competitiveness. Some of these capabilities include fewer design restrictions and direct production of final components by eliminating the need for new tooling. Currently, several developments are taking place in the industry as follows:

• Local Motors installs world's largest composite 3D printer
Local Motors, a vehicle manufacturing company based in Arizona, recently completed the installation of a composite 3D printer called the Thermwood LSAM at its Knoxville, Tenn., micro-factory. Considered the largest in the world and spanning 10 feet by 40 feet, the machine will be used to print components for the company's innovative Olli vehicle, an autonomous 3D printed shuttle bus. The Thermwood LSAM system was developed with the intention of manufacturing large-scale structures and parts using composite materials and an additive approach.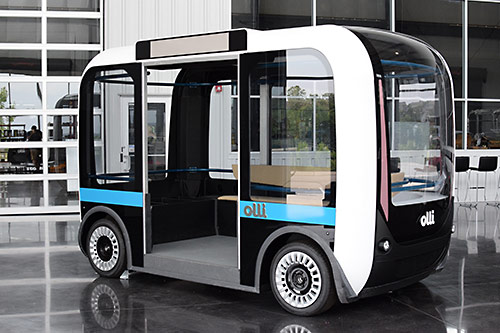 • Audi adopts Stratasys 3D printing
In June 2018, German automobile manufacturer Audi announced that its Pre-Series Center and Plastics 3D Printing Center in Ingolstadt, Germany, adopted Stratasys 3D printing methods. Stratasys' J750 full-color, multi-material 3D printer is used to produce full-color physical models of automotive parts, reduce the time needed for prototyping, and accelerate the design verification process. The design verification process is crucial in automotive manufacturing as it determines the approval or denial of new design concepts before a new vehicle is developed. According to Audi, it has achieved prototyping lead time reductions by up to 50 percent for certain parts with full-color, multi-material printing capabilities. One of the components that has benefitted from the printer is tail light covers of the vehicle. The covers were typically prototyped using milling or molding and had to be made in multiple parts.

• Wipro3D launches center for metal 3D printing
In March 2018, Wipro3D, the additive manufacturing unit of Wipro Infrastructure Engineering, introduced a state-of-the-art solution and experience center for metal 3D printing in Bengaluru, India. The first-of-its-kind center which measures 12,000 square feet was inaugurated by Wipro Chairman Azim Premji. Equipped with leading-edge build technology, post-processing, research, characterization, and validation facilities, the center is the country's foremost fully integrated metal additive manufacturing facility, recommended with AS9100 Rev D certification.

• AMFG launches AI software platform for industrial 3D printing
In June 2018, a novel software platform that employs artificial intelligence to automate additive manufacturing production was launched by AMFG, a leader of automation software for industrial 3D printing. The AI capabilities of the company provide manufacturers with complete production automation for end-use parts, including scheduling automation, printability analyses, and post-processing automation.

• Coherent acquires O.R. Lasertechnologie GmbH
In May 2018, Coherent Inc., a leading provider of laser and laser-based solutions, acquired O.R. Lasertechnologie GmbH, a company that manufactures high-precision tools for laser additive manufacturing with the aim of increasing the former company's product portfolio in additive manufacturing. The acquisition provides Coherent with a complementary product line that increases its solutions portfolio in additive manufacturing. Moreover, the deal allows the latter's products to seamlessly integrate with the former's current offering. O.R. mainly deals with direct metal deposition and selective layer-melting technologies and systems cutting, welding, marking, and engraving serving industries such as automotive, dental, aerospace, and others.