In many parts of the country, manufacturing is more of a fond memory than a reality. Not so in Mississippi, which is very much a state that makes things. "We are, as states go, still fairly manufacturing-intensive," says Jay C. Moon, president and CEO of the Mississippi Manufacturers Association.

In particular, he says, about 12 percent of the Mississippi workforce is directly engaged in manufacturing, while another 2 or 3 percent have jobs indirectly tied to manufacturing. "We have a fairly strong manufacturing base," Moon says. "What we've tried to do is make sure we have a fairly well-rounded manufacturing base."

Among the hottest segments in Mississippi manufacturing right now is the automotive sector. David Rumbarger, CEO of the Community Development Foundation in Tupelo, has seen the growth firsthand, including the addition of Grammer Inc., a German-owned supplier of automotive interiors and seating systems for commercial vehicles. Last year the company picked a site in the Tupelo Lee Industrial Park South for a manufacturing facility, promising up to 650 new jobs.

Why this particular location? "It was the workforce," Rumbarger says. "They made an extensive dive into the workforce to find the skills and abilities at the rates and terms they wanted to provide." Indeed, for the first few hundred jobs, he says, there were more than 3,500 applicants.



Economic Momentum


That's not an unusual situation, says Brent Christensen, executive director of the Mississippi Development Authority. "We hear people concerned about workforce on a regular basis, but we get big projects that get a large number of applicants," he says, pointing to Toyota's 2,000-job assembly plant that drew about 50,000 applications when it began hiring a few years ago. "We're seeing an awful lot of momentum in economic development," Christensen says, pointing out that not quite three years into the current term of Gov. Phil Bryant, "we've announced nearly 16,000 jobs and over $2 billion in capital investment."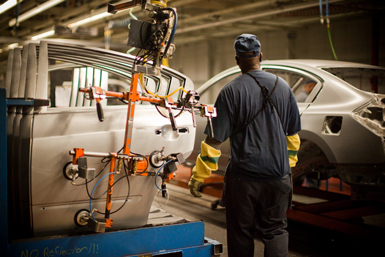 In fact, he adds, "we're not only seeing an uptick in domestic investment, but foreign direct investment as well." The Grammer facility in the Tupelo area is one example. Another is Yokohama Tire Corp.'s manufacturing plant, a $300 million investment promising 500 jobs for starters and as many as 2,000 later on. And then there is Feuer Powertrain, building its first U.S. manufacturing operations in Mississippi and promising 300 new jobs.

The boom in automotive jobs has a lot to do with the presence of Toyota and Nissan. "That has generated a lot of activity with Tier 1 and Tier 2 suppliers," Moon notes. Nissan, in fact, is building its first North American supplier park, he says, which will drive a lot of jobs. "We have a lot of companies that are Tier 1 or Tier 2 suppliers for both Nissan and Toyota that are increasing their operations."

As Moon notes, the goal is to encourage a diverse economy, and that means growing more than just automotive jobs. The state's furniture industry is another part of the picture, he says, employing some 21,000 people. "At one time a lot of that was going overseas, but we've been able to stabilize that to a significant degree," he explains, pointing as an example to the move of Posturecraft Mattress Co. to Mississippi.

Growth in other sectors, he continues, includes a 250-job facility opened last year by Aurora Flight Sciences, designer and builder of aerospace vehicles, and a $6.7 million manufacturing and distribution facility from Aluma-Form, a power distribution products maker. A company called Green Circle Bio Energy, meanwhile, picked Mississippi for a plant to make and send wood pellets to Europe to fuel electric generating facilities.



Fulfilling Workforce Needs


The healthy Mississippi workforce situation didn't just happen. Providing an ample supply of qualified labor is an issue most states and localities are facing, and it's an issue that's not going away anytime soon.

"Baby-boomers are exiting in record numbers in the next 10 years or so," Moon says. "Where is the next generation of people who are going to build things going to come from? You want to be able to provide the skill sets that fit what existing companies need."

"Everybody's challenge is the labor force," Rumbarger agrees. "We can do all of the surveying and analysis and all we can do, but the bottom line is you have to have satisfied companies."

Governmental and industry leaders in Mississippi have tried to address the challenge by connecting directly with employers to discern specific requirements and needs. "One area that I spend a lot of time on is working with our businesses on workforce development — that's a key for advanced manufacturing," Moon says. "We have to have people with skill sets to make their products. We work back through our community college system to be sure that their programs are turning out the kind of people with the kind of skills that manufacturers need."

Of course, the roots of a skilled workforce are planted much earlier than college, and that's been getting attention in recent years, too. The state's educational system often fares poorly in national rankings — for example, Mississippi ranked near the bottom in Education Week's 2014 Quality Counts report.

These kinds of rankings explain the heavy emphasis Gov. Bryant has placed on education reforms. Last year the Governor signed his "Education Works" legislation. The program includes a wide range of initiatives, such as the creation of more charter schools, new incentives for Mississippi students who pledge to teach in-state, efforts targeting the literacy of third-graders, and help for struggling school districts that are seeking new solutions. Among other things, there are also higher standards for entry into teacher education programs, more funding for early childhood education, and new efforts to discourage high school students from dropping out. State officials are hopeful that as such reforms start to take hold, they'll begin to move the needle on results and rankings.

One thing working in the state's favor is the willingness of its workforce to travel. Christensen says some prospective employers are accustomed to checking out the workforce within a radius of 10 or 15 miles of a site. "We have to convince them that the radius really ought to be 60 to 75 miles wide. When Nissan opened about 10 years ago they had employees whose home addresses were located in 81 of the state's 82 counties," he says. "We have to convince prospects that people in Mississippi will drive a good distance for a good job opportunity."

And it doesn't hurt that Mississippi was ranked among the top states for its right-to-work labor climate as well as competitive labor costs and utility rates by the consultants responding to Area Development's 2014 Top States for Doing Business Survey. In fact, Moon says his organization frequently works with state officials to identify and address ways that business costs, such as taxes, can be made more competitive. He points to a relatively recent effort to eliminate sales tax on the energy used in production. "A lot of states spend a lot of time on incentives, and we do, too. But it's important to look at your ongoing costs," he says.