Anchored by traditional industries like manufacturing, agriculture, timber, textiles, and chemicals, the southeastern United States continues to drive the American economy. Over the last few decades the South has diversified into higher-tech sectors like advanced manufacturing, information and communication technology, and energy-related technologies. Every southern state has embraced this transition from traditional to knowledge-based economies and works hard to attract capital investment, new projects, and the high-paying jobs that come with them.



Business-Friendly and Low-Cost


The commitment has paid off — companies have been coming to the South for decades, attracted by the friendly business climate and overall low business costs.

"Business costs in the South — especially land, energy, and labor — are among the most affordable in the U.S.," says site consultant Mark Sweeney, senior principal for McCallum Sweeney Consulting in Greenville, South Carolina. "Transportation and energy infrastructure are generally strong. Favorable government policies also play a role in a company's final site decision — southern states tend to have attractive tax structures, good incentives, and generally cooperative (rather than adversarial) regulatory agencies."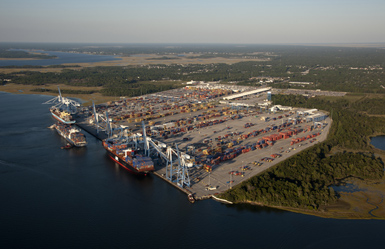 Because of the long history of manufacturing in the South, its work force tends to have the experience and skills most manufacturers are looking for. These can also be customized through top-ranked, zero- to low-cost training programs that are run by state work force development offices. Most southern states have low rates of unionization, which translate into a lower-cost and more stable labor force — a big attraction to both domestic and foreign firms.

The South also has a well-developed transportation infrastructure consisting of modern ports, railroads, airports, the Mississippi River, and interstates and highways, with connections to bustling, high-tech intermodal terminals. Many southern cities are only a one-day drive from about two thirds of the American population, making them ideal locations for manufacturers and distributors. The southern states continue to maintain and upgrade this vital infrastructure — South Carolina, for example, is investing $2 billion in its transportation system, including deepening harbors, adding port capacity, and building a new intermodal rail yard.

Some of the best-performing states are in the South, driven by manufacturing and energy. For example, Kentucky is shattering its export records, with a 14.2 percent increase in exports during the first 11 months of 2013 — the second-highest percentage increase among the 50 states for that time period (in comparison, overall U.S. export growth was only 2.3 percent). Last year was Louisiana's best year for business development in the last six years, with projects totaling about 27,000 jobs and $26.4 billion in capital investment. Tennessee is another hot performer — its real GDP grew by 5.8 percent from 2010 to 2012, putting it in the top five states for that time period. The state also created 143,400 net new jobs from January 2011 to November 2013 (a growth rate of 5.46 percent).

Oil and gas recovered from "unconventional" shale deposits is boosting the energy sector. Large amounts of natural gas at affordable costs are stimulating industrial investments by oil refineries and petrochemical facilities. For example, two recently announced natural gas projects in Louisiana were among the largest investments in North America. Combined, Cheniere Energy's liquefied natural gas export facility in Cameron Parish and Sasol's integrated ethane cracker and gas-to-liquid project in Westlake could represent more than $20 billion in capital investment and nearly 2,000 jobs.

With all this economic activity, overall unemployment in the South is among the lowest in the nation. As the economy continues to recover, job growth in manufacturing in the southern states continues to outgain other manufacturing regions, like the Midwest and the Great Lakes. More companies are announcing new locations and expansions, including the construction of new corporate headquarters in big cities like Atlanta, Charlotte, and Nashville. Companies are also putting down roots in smaller communities — for example, Rain CII Carbon, a manufacturer of calcined petroleum coke, will relocate its headquarters from greater Houston to Covington, Louisiana, to be closer to its operations.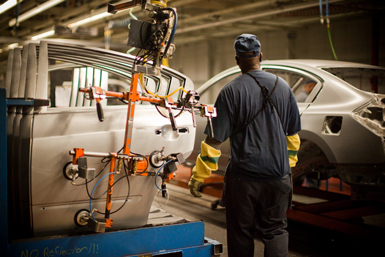 Key Southern Industries


The South's manufacturing base is as solid as the products it makes, including steel beams, cars and trucks, robots, aircraft, and rocket engines. As a result, job numbers are up. Georgia recorded a 10 percent increase in job creation during its most recent fiscal year — many of those jobs are in manufacturing. South Carolina recruited more than 15,000 new jobs in 2013. To meet increased manufacturing needs and provide customized training, Workforce Florida will provide $2 million in customized training grants dedicated to manufacturing.



Automotive


Manufacturing in the South, of course, is anchored by the revved-up automotive industry. In 2013 Alabama's three auto assembly plants — Honda, Hyundai, and Mercedes-Benz — combined to break the previous year's production record by 4 percent. This kind of success is attracting more supply-chain vendors to the area such as REHAU, a German company that is opening its first U.S. technical research center in the town of Cullman.

"Having a high-tech company like REHAU choose Alabama for a U.S.-based research and development facility means new products will be born here, which will lead to further growth of this industry in our state," says Greg Canfield, Alabama's Secretary of Commerce.

In Mississippi, Yokohama Tire Corporation will build a $300 million commercial truck tire plant in West Point. Kentucky's auto industry is booming — its auto production is third-highest in the country, with vehicle and parts exports totaling $5.1 billion. Georgia's Toyo Tire North America Manufacturing recently announced it would expand, creating 650 new jobs and investing $371 million over the next four years. "This is our fourth expansion and will help us meet the demand for our products by North American dealers and consumers," says company president Jim Hawk.



Aviation and Aerospace


Aviation and aerospace R&D has deep roots in the South, led by the Kennedy Space Center in Florida and NASA's Marshall Space Flight Center in Huntsville, Alabama. Boeing recently announced it would build a technology research center in Huntsville, creating up to 400 jobs. Other major players in Alabama are Lockheed Martin, Airbus, and Raytheon. In Florida, Embraer will manufacture its Legacy 450 and 500 aircraft at the Melbourne International Airport, creating 600 jobs.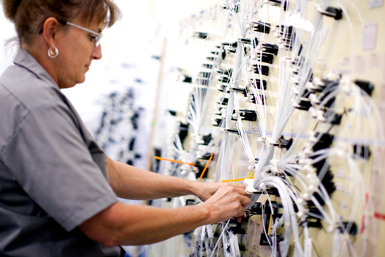 Mississippi and Louisiana are also well known for their aviation industries. Raytheon Space and Airborne Systems plans to expand its Mississippi operation to include a $100 million, 20,000-square-foot addition in Forest. Facilities in Louisiana include AAR Corporation's aircraft maintenance and repair operation in Lake Charles, Bell Helicopter's assembly plant in Lafayette, and Lockheed Martin's LNG tank manufacturing operation at NASA's Michoud Assembly Facility in New Orleans.

GE Aviation recently announced it would build a $125 million, ceramic matrix composite (CMC) manufacturing plant in Asheville, North Carolina. These CMC components, designed to withstand extreme heat, will be used in the core of engines. "Asheville will be our first factory involved in the mass production of CMC components," says David Joyce, president/CEO of GE Aviation. "This new facility will be on the ground floor of a new technology that will change aviation."



Information and Communications Technology (ICT)


Some of the country's most vibrant ICT clusters are in Raleigh Durham-Chapel Hill, North Carolina, and Atlanta, Georgia. For example, Allscripts, a leading developer of electronic health records, will expand its operations in North Carolina, investing $2.8 million and creating 350 new jobs. In Georgia, a new AT&T Foundry® facility will accelerate research and development. Located in Atlanta adjacent to Georgia Tech, the AT&T research team will develop home security and automation technologies.

Google established itself in South Carolina with the construction of a data center complex in Mount Holly. Plans are now under way for $600 million expansion, bringing Google's total investment in South Carolina to $1.2 billion. Another ICT giant, IBM, will construct a $55 million, 800-job technology center in Baton Rouge, Louisiana. Since the announcement, computer science enrollment among freshmen at LSU's College of Engineering jumped 60 percent.

Florida's core ICT strengths include digital media, simulation and training, and health IT. iSirona, a company that specializes in medical device connectivity and integration, will undertake a $2.25 million expansion of its operations in Panama City, Florida, creating 300 new jobs. The company was ranked "One of America's Most Promising Companies" in 2013 by Forbes magazine and the fifth-fastest-growing private company in U.S. healthcare in 2012 by Inc. magazine.

Next: Agribusiness, Life Sciences, Energy and FDI