Just over a decade ago, when Quebec-based Bombardier Recreational Products Inc. (BRP) decided to try Mexico as a manufacturing market, the off-road vehicle manufacturer took a measured approach. In 2003, BRP tested the waters by leasing a facility in Ciudad Juarez, Chihuahua, to assemble outboard engines for export. Two years later, the Canadian firm decided to transfer all of its ATV assembly and engine manufacturing operations to Juarez.

Building on its first, successful ventures south of the border, over the last decade BRP has steadily increased its stake in Mexico to more than $190 million worth of manufacturing facilities in the states of Chihuahua and Querétaro, and an extensive distributor network.

Investments Continue to Rise
Business expansions like BRP's have become "the story" in Mexico, as the country has developed into one of the world's manufacturing powers.

"Mexico has really burst on the scene as a legitimate player in the global manufacturing sector," says Bob Cook, president and CEO of the El Paso, Texas-based Cook Strategies Group, LLC. "Every trend I look at indicates that rise is going to continue."

Mexico - Global Manufacturers Bombardier Recreational Products Inc. (BRP), Flextronics Manufacturing, Lexmark Internacional and Johnson & Johnson

Juárez, Chihuahua

Bombardier Recreational Products Inc. (BRP)

Querétaro, Mexico

Ford

Chihuahua City, Chihuahua

BMW

Goodyear

San Luis Potosi, Mexico

Toyota

Guanajuato, Mexico

Mazda

Guanajuato, Mexico

Hundyai/Kia

Monterrey, Nuevo León

Nissan/Daimler

Aguascalientes, Mexico

Honda

Celaya, Guanajuato

Audi

San Hosé, Chiapa
Agreeing with that prediction, the Boston Consulting Group estimated in a 2013 report that Mexican manufacturing exports will increase up to $60 billion annually by 2018.

According to Banco de Mexico data, Mexico has received over $135 billion in foreign direct investment (FDI) over the last five years — almost $86 billion of that within the past three years. The largest share of FDI in Mexico comes from the United States, representing over one third (34 percent) of total FDI over the past three years. Canada has been the source of another 10 percent of FDI in Mexico over the same period.

More than half (58.6 percent) of the FDI coming into Mexico was invested in manufacturing enterprises, with the top five sectors being food and beverages; transportation equipment; chemicals; electronics; and electric equipment. The automotive sector alone added more than 93,000 jobs in 2014, growing nearly 15 percent.

However, the growth trend has also been "pretty diverse," Cook says. "We've seen a lot of growth the across the board," a trend which bodes well for the country's economic future. The most pronounced growth has taken place in "high value" categories such as aerospace, automotive, and electronics.



Mexican manufacturing exports are estimated to increase by up to $60 billion annually by 2018.

An Automotive Powerhouse
This tsunami of foreign investment has transformed Mexico into the world's seventh-largest automotive producer and the fourth-largest exporter after Germany, Japan, and South Korea. Mexico has usurped Japan to become the No. 2 supplier of vehicles to the U.S. market, behind Canada. By 2018, industry analysts predict Mexico's current annual production of 3.2 million cars and light trucks to increase more than 50 percent to five million vehicles. Earlier this year, The Wall Street Journal reported that seven Asian and European automakers have opened new Mexican assembly plants, or announced plans, in just over a year. Other car companies have bankrolled major expansions in Mexico, including Nissan, General Motors, Ford, Volkswagen, and Fiat Chrysler Automobiles NV.

In total, automakers and parts suppliers have earmarked more than $20 billion of new investments, Mexican officials say. The automakers' presence has also spawned major growth of smaller vendors who supply the auto plants, according to Cushman and Wakefield's Gonzalo Gutierrez, who is the firm's senior director of Industrial Brokerage Services for the Northeast Region of Mexico, based in Monterrey. These vendors come from all over the world, but most hail from the U.S., Japan, Germany and, more recently, Korea, Gutierrez says.

Meanwhile, recreational vehicle maker BRP has gradually upped the ante on its Mexican investment. In 2013, BRP opened a $100 million manufacturing facility in Querétaro, which employs 1,100 people. Last year, BRP decided to build a second plant in Juarez, to expand its Can-Am product offering and meet future demand for off-road vehicles. When completed in late 2017, the $55 million facility is expected to employ about 900 workers.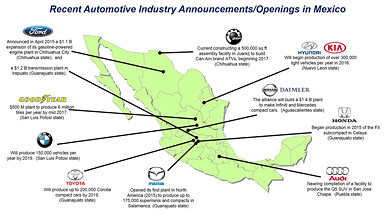 Aerospace, Electronics, and Medical Devices
The aerospace sector in Mexico has also been growing rapidly. Last year, Mexico exported an estimated $1.9 billion worth of aerospace products to the U.S., an amount that has quadrupled since 2009, Cook notes. In that sector, "Mexico is rapidly moving up the global rankings."

Regarding regional distribution of FDI, just over half accrues to Mexico City and the surrounding state, according to Cook. About a third of the balance goes to the four states of Chihuahua, Jalisco, Puebla, and Nuevo Leon.

In addition to being an automotive center, the border city of Juarez has become a manufacturing center for electronics and medical devices. Its electronics manufacturers include Electrolux, Flextronics, Foxconn, and Lexmark. Its medical device companies include Cardinal Health, GE, and Johnson and Johnson. Other northern states have benefited from the growth of the electronics industry, including Chihuahua, Baja California, and Tamaulipas.

Mexico's developing manufacturing clusters have also drawn smaller companies. One example is Greatbatch Inc., which plans to move 170 jobs from its Electrochem Solutions Inc. manufacturing facility in Beaverton, Ore., to a new plant in Tijuana (Baja California) by year's end.

The southern Mexican region has also benefited from lower labor costs, which have helped attract clothing and textile manufacturers to cities including Campeche and Veracruz.

Boosting Mexico's Natural Advantages
There have been a multitude of reasons for Mexico's manufacturing boom, including both indigenous advantages, and efforts by the government in recent years to make the country a more desirable trade partner and place to do business. Over the past decade, Mexico "has been pretty aggressive in liberalizing trade with companies around the world," and has the most free-trade agreements of any country in the world — 44, Cook points out.



The Mexican government has been proactive in modernizing the country's business climate to 21st century standards.

Mexico's homegrown business advantages include lower transportation and warehousing costs, an improved ability to respond to customer demands, improved control of intellectual property, the availability of proximate time zones between management and production locales, and the cultural similarities between the U.S. and Mexican markets.

Augmenting Mexico's expansive, free-trade policies, the government has also been proactive in modernizing the country's business climate to 21st century standards. Investing in education has been a major thrust to ensure a well-prepared, bilingual workforce.

According to the United States Embassy in Mexico, more Mexicans — almost 100,000 more — earn engineering degrees annually than Canadians and Germans. And during the past decade, Mexico has doubled the number of its public two-year colleges and four-year universities. The government financed 140 new colleges and universities, with 120 of those emphasizing science and engineering.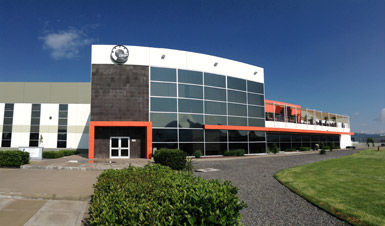 Another priority has been improving Mexico's roads, bridges, and utility infrastructure to help expedite the flow of materials and manufactured goods. Revisions in the country's energy policy have encouraged private-sector investment in new natural gas pipelines and power lines. Additionally, earlier this year, AT&T announced plans to invest $3 billion to extend its high-speed mobile Internet service to Mexico and cover 100 million consumers and businesses by year-end 2018.
Mexico also continues to benefit from the near-shoring trend among some American companies — i.e., moving manufacturing operations to Mexico from China and other low-cost countries. Average manufacturing labor costs in Mexico are now almost 20 percent lower than in China — a sea change from 15 years ago, when Mexico's labor costs were 58 percent more expensive than China's, according to Forbes.com.
Are there other supply chain issues in Mexico companies need to be aware of? "There are no critical issues related to transportation inside Mexico," Gutierrez says. "Since the last five years, the 3PL companies, such as the companies with distribution centers in multiple (Mexican) states, have handled their operations with no inconvenient events, while they have significantly increased their operations, every year."
Some Challenges Ahead
Of course, crime and violence, much of it related to the illegal drug trade, remain a concern. However, media reports may exaggerate the hazards. Gutierrez notes that companies doing business south of the border have developed effective, operational planning strategies to minimize risk and avoid travel related hazards in problematical regions.
Yet, with such a rapid economic expansion, some growing pains are to be expected. There are several challenges facing the country, which the current Mexican administration is working to address, according to Cook, in order to help promote continued economic growth.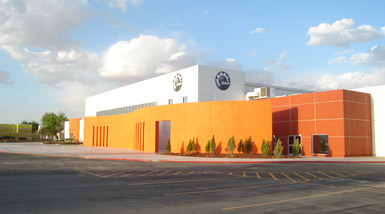 To capitalize on Mexico's abundant energy resources, the country will need new capital investment and technology upgrades in the processing and distribution of energy. "That's opening up as we speak," Cook says.
This year, Mexico opened its oil industry to foreign investment for the first time since the 1930s, offering for auction exploration rights to 14 shallow-water fields
. And this summer, Mexico's Federal Electricity Commission began taking bids on 24 projects that will enable the generation of an additional 1,442 megawatts of power, along with adding nearly 1,500 miles of natural gas pipeline and almost 2,000 miles of power lines.
Competition for skilled labor can be expected to heat up, along with the overall economy. "If you need specialized engineers and technology, you will not find them along the border; you need to go closer to Mexico City," notes Sylvain Blanchette, BRP's VP of Mexican operations. Generally, the average cost of labor increases moving south from the border to the country's interior. That may be due to more competition for skilled labor, due to the increased number of auto, aerospace, and other manufacturers, says Blanchette.
To sustain its manufacturing expansion, Mexico is going to need "to have an even greater emphasis on skilled labor," Cook says. However, in spite of the challenges ahead, Mexico's ascendance as a global economic power should continue, Cook believes, citing its globally competitive cost structure, young workforce, and friendly trade policies.
Mexico's richest resource — and the real driving force behind the growth boom — may be its people, says Blanchette, who praises the knowledge, enthusiasm, and initiative of the Mexican workforce. "When we have come to Mexico with projects, the people we work with have been extremely eager to learn and improve what they do," Blanchette concludes.