Collin County, Texas, is a robust financial and tech center just northeast of Dallas city limits. Montgomery County, Texas, due north of Houston, specializes in oil and gas extraction and machinery manufacturing. These counties have different economic makeups and sizes, but they share several similarities. Their populations have grown much faster than the state average the last five years. Their cost of living is almost on par with the national average. And they lead a small batch of counties that combine strong net migration and strong skilled job growth.

In the newly released Talent Attraction Scorecard, Emsi ranked every county on how well it has attracted skilled labor the last few years. The scorecard is based on an index that equally weights 2013–2014 net migration, 2011–2015 skilled job growth, and three other data points — overall job growth, regional competitiveness for skilled jobs, and annual job openings per capita (which factors in replacement jobs needs).

Texas and California counties make up much of the top of the ranking, including the top four: Travis County, Texas (Austin); San Francisco County; Harris County, Texas (Houston); and Santa Clara County, California (San Jose). Yet only Texas' Collin County (ranked No. 7 overall) and Montgomery County (No. 19) expanded employment in skilled occupations by at least 20 percent from 2011 to 2015, while also ranking in the top 15 in net migration. Just a few other counties are in the top 35 in both net migration and skilled job growth: Fort Bend County, Texas (in the Houston MSA); Lee County, Florida (Cape Coral-Fort Myers); and Denton County, Texas (in the Dallas MSA).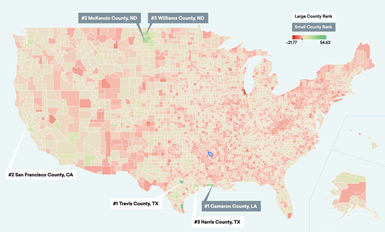 Talent Attraction a Focal Point
Attracting and retaining talent has become a focal point for more communities and regions. This has happened as many economic development organizations have become equally or more concerned with supporting and expanding existing companies — which along with startups create more than 8 out of 10 jobs in every state, according to the Center on Business and Policy Priorities — than with recruiting new businesses.

The metrics are also shifting in economic development. Sheer job creation is being replaced with a focus on quality job creation and expanding opportunity (and incomes) in communities.

Mary Ellen Wiederwohl, chief of Louisville Forward, noted in an article for Brookings, "Economic development today is as much or more about talent attraction, place-making, innovation, and global engagement as it is about company recruitment."

Dozens of factors come into play in making a region attractive (or unattractive) to people looking to move. What's the weather like? How are crime rates and the quality of schools? For our study, we focused on key labor market variables, the most noteworthy being net migration and skilled job growth (which looks at a subset of occupations that require formal education and those that typically require long-term on-the-job training or least five years of experience). Travis County blew away every other county in 2013–2014 net migration, adding an estimated 62,000 new people, according to IRS data. The next closest was Maricopa County (Phoenix), which added 9,600.

Despite recent headlines saying companies are moving back to metro areas, there have been big spikes in skilled job growth in suburban counties, which generally offer a more favorable cost of living.



For skilled job growth, the landscape is much different. Adams County, Colorado, led all counties with at least 100,000 people (the cutoff for large counties) with 29 percent growth in skilled occupations. Williamson County, Tennessee, was second (28 percent), followed by Queens and Kings counties, New York (both 27 percent).

Growth Outside Core City Counties
Adams County, Williamson County, and our two focal counties (Collin and Montgomery in Texas) help illustrate a noteworthy trend. In a number of metro areas, the counties on the periphery of that MSA's major city have seen more talent attraction success than the city-core counties.

Williamson County, in the Nashville MSA, ranked 22nd in our ranking of large counties. Davidson County, where Nashville proper is located, ranked 290th. The same goes for the Atlanta metro, where Forsyth and Cobb counties are among the top 35 while Fulton County (home to Atlanta) is No. 115.

Part of this likely has to do with cheaper cost of living and more affordable family housing outside a metro area's core county. And even though some companies are eschewing the suburbs, the big spikes in skilled job growth in suburban counties suggests that's not a universal trend.

Houston, Phoenix, and Charlotte are among the exceptions; their core counties (Harris, Maricopa, and Mecklenburg, respectively) are in the top 10. It should be noted cost of living is reasonable in all three.

How Cost of Living Factors In
Most of the top counties in our ranking, in fact, have favorable cost-of-living environments. We compared median hourly earnings for all wage-and-salary jobs in each county to median wages adjusted for cost of living using the Council for Community and Economic Research's index.

In Travis County, Texas, adjusted median wages ($21.61) are almost as high as unadjusted ($22.26). Clark County (Las Vegas), which ranks 8th overall, and Mecklenburg County (Charlotte, No. 9) also have adjusted wages that come close to unadjusted wages.

San Francisco, Santa Clara (San Jose), and King County (Seattle) are the only in the top 10 that have a high or very high cost of living. In each, though, well-known companies and job opportunities are attracting skilled talent despite how expensive it is to live in these counties. (And even then, net migration was negative or low in every Bay Area county except for Alameda County.)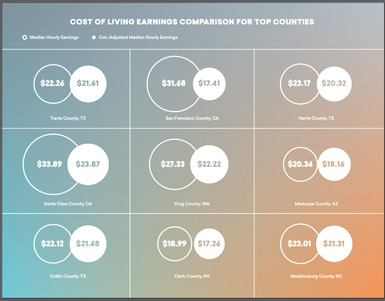 Looking at cost of living and the job market numbers behind our index, it's easy to see why Texas is doing so well in talent attraction. Seven of the top 25 large counties are in Texas, and the most expensive to live in is Harris County, where adjusted wages are still 88 percent of unadjusted wages.

In all the bottom 10 counties, meanwhile, cost of living is above — in some cases, far above — the national average. New York County (Manhattan), which ranks last out of 592 large counties, has adjusted median wages of $12.80. That's 41 percent of unadjusted median wages ($31.37). New York County is an extreme example, of course. But the rest of the bottom-ranking counties — especially Cook County (Chicago); Essex County, New Jersey; and Philadelphia County — are cost-prohibitive. In each of these Northeast and Rust Belt counties, skilled job growth is scant, net migration is negative, and overall job gains aren't great, either. Which makes the likes of Collin and Montgomery counties in Texas that much more attractive for skilled workers weighing their options.