Car buyers get digitization. Connected vehicles, autonomous driving, and new business models such as Uber provide material for lively public debate. The next digital revolution, however, is not only about the consumer; it's even more about productivity. Digitizing the manufacturing process promises not only greater efficiency and reduced costs, but significantly addresses some of the U.S. automotive industry's most pressing challenges, including how to deal with the increasing complexity coming with more vehicle derivatives, more niches, and more options; and how to react to increasing market volatility and labor-intensive, inflexible, and expensive production.

These challenges call for flexible and stable manufacturing processes, with short time-to-market, quick turnover times, lower labor content, and — in an ideal world — a lot-size-one, customized "mass" production. Digital factories are the answer to these challenges.

Additionally, the digital factory evolution promises to unleash between $16–32 billion in annual productivity gains for U.S. domestic automotive production. This equates to between 10 percent and 20 percent of addressable production costs through digital factories and is realized by following a trend that is also known as "the fourth industrial revolution," or simply Industry 4.0 (following the first three revolutions of mechanical production at the end of the 18th century, mass production at the end of the 19th century, and automation 50 years ago).

Cost-Savings Benefits
The savings potential spans over the full value chain. In the long run, the experts from Fraunhofer Institute for Manufacturing Engineering and Automation (IPA) estimate specific cost-savings benefits by area as following.

Manufacturing — Digital factories are expected to reduce manufacturing costs by 10–20 percent as compared with pre-digital levels. One major factor driving improvement in manufacturing will be increasingly advanced robotics/machinery, as technologies such as self-reconfiguring machines and the human-robot collaboration of "cobotics" become increasingly mainstream. Other cost-saving factors include the development of self-optimizing systems and the use of virtual plants and products (before and after physical production begins).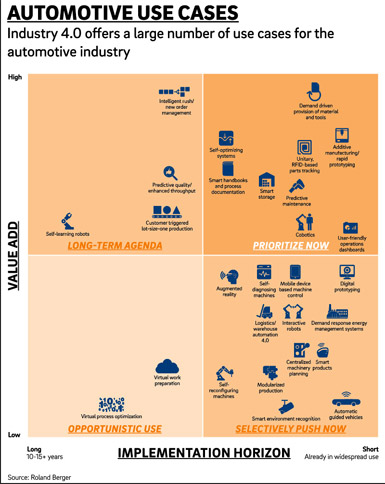 Another related driver of cost savings will be increased staff flexibility as job functions adapt to new requirements. As these advances are implemented, positive effects will range from increased operational equipment efficiency (OEE) and reduced machine idle time to quicker production ramp-up times, shorter changeover times, and improved process control loops.

Logistics — In general, increasingly integrated supply chains and highly automated intra-plant logistics are expected to bring steady improvements to logistics efficiency in the coming years. These overall changes will be driven by technologies such as smart storage (enabling optimized internal logistics planning) and demand-driven provision of materials and goods. Cumulatively, advances in this area are expected to improve manufacturers' logistics costs by ?10 percent to 20 percent.

Inventory — The digital factory of the future will give manufacturers better visibility and control over both their current inventory levels and future inventory needs. It is estimated that new technologies in this field will provide the opportunity for manufacturers to yield a 30 percent to 50 percent reduction in inventory costs over time. Solutions such as cyber-physical systems that improve the manufacturer-customer interface and the connection to supplier networks allow manufacturers to hold less safety stock and manage the bullwhip effect.

Quality — The digital factory will also have important ramifications on product quality levels and related processes, as it is expected that a further 10 percent to 20 percent of cost savings can be found in this area. Digital factory technology will allow manufacturers to increasingly monitor and even predict where and when quality issues may occur. In addition to this predictive quality control, the increasing prevalence and enhancement of real-time quality testing (if needed, at every production step) will also work to gradually reduce manufactured defects and other quality-related costs.

Complexity — New technologies will lead to a reduction in cost associated with manufacturing complexity. Advances such as smart robots, smart products, and modularized production are designed to handle complex production processes efficiently. In this way, digital factories will be designed to troubleshoot production problems and other issues related to manufacturing complexity as quickly as possible. Potential savings in this area are estimated at between 60 percent and 70 percent.

Maintenance — Finally, maintenance will face significant improvements in both effectiveness and overall cost levels when compared with previous manufacturing eras. Numerous technologies will work to streamline the task of keeping a plant in optimal working order, ultimately driving cumulative maintenance cost savings of between 10 percent and 20 percent. Examples of use cases within the maintenance area include predictive maintenance, optimization of spare parts inventories, and the dynamic prioritization of maintenance tasks.



When it comes to clusters, capital, and competency, the U.S. is the playground of choice.

Other Benefits
In addition to lowering production costs, the digital factory also brings considerable benefits to the customer with a corresponding knock-on effect on sales. For example, manufacturers may offer a truly bespoke and made-to-order vehicle fulfilling exactly the requirements laid out by customers when they configured their car online. While this is already available today, demand has thus far been very limited because it often takes months for a bespoke vehicle to be delivered to the customer, and this is a no-go in the U.S. market.

All these digital factory opportunities come together when three major groups work hand in hand: IT infrastructure providers — such as Cisco or Amazon, who provide supporting structure and services; technology companies (the likes of GE, Siemens, or ABB), who provide collaborating robots and remote maintenance systems; and automotive manufacturers and suppliers themselves. When the capabilities of these players combine they add new dimensions to the industrial landscape.

This evolution opens up the possibility of new services and business models, and trust in a secure and reliable technological infrastructure is allowing deregulated and highly competitive markets to emerge.

"Made in USA" as the New Rallying Call of Quality
There are several factors behind the need for digital factories such as market pressure for cost reduction, increased production capacity, and cheap energy. When coupled with cash-rich automotive balance sheets and easy access to capital, the current environment creates perfect conditions for manufacturing investments in digitization. The U.S. is the ideal place for digital factory investments for four reasons:
Established technology hubs like Silicon Valley — The United States is home to eight of the top 10 information technology companies including vaunted names such as Intel, Microsoft, and Google. While these firms compete with each other, they also operate in close proximity to one another, creating tech clusters that the auto sector can tap into.
Modern infrastructure and the proximity effect — To achieve "just-in-sequence" coordination between OEMs and suppliers, close physical proximity will be required. The U.S. has a strong network of established auto manufacturing hubs in places like Michigan or the Southeast states that can meet this requirement.
Educated labor force — Operating a digital factory requires an educated workforce able to adapt to increased reliance on information technologies. The United States' 3,200+ colleges and universities offer degrees in the STEM fields that graduate over 570,000 students each year. The U.S. has the right talent base to meet digital factory needs; however, don't expect attracting talent to be easy with the opportunities available in other sectors and locations. It will be critical for any company investing in digital factories to plan and invest well ahead into this important human resource.
Strong government support — The U.S. is an attractive place due to the federal and local incentives being offered for investing in these technologies to create the manufacturing foundation of the future. Federal government incentives like the Advanced Technology Vehicles Manufacturing Loan Program provide funding for digital factory initiatives, and similar programs are also available at individual state levels.
Developing a Digital Factory Ecosystem
The battle for digital factories has already started. Through 2020, pilot programs and retrofitting can be expected for existing factories. A broader adaptation of standard solutions and a gradual replacement of most machinery are likely to take place around the year 2025. The final "full" transition to digital factories is projected for approximately 2030.

To kick off digital factories, companies need to proactively develop their own digital factory ecosystem. Three immediate actions OEMs and suppliers can take now are:
Identify accessible know-how. Automotive players — especially the largest OEMs and the bigger suppliers — should start identifying their competencies and talent, scattered across their business functions and divisions, and bundle it in digital factory expert groups and task forces. A solid network is indispensable. External partners range from digital factory equipment providers to IT firms and independent think tanks. In short: A digital factory team needs to be established and staffed with the right talent.
Assess your company's capabilities. The digital factory team helps with shaping the company's Industry 4.0 vision and strategy, quantifying benefits, and defining priorities. The team kicks off with a status quo analysis of digital factory capabilities and applications within the company, as well as the upstream and downstream value chain. The digital factory will impact largely on production and supply chain management. That said, procurement, engineering, sales, and general management processes will all be influenced.
Make a plan. Finally, a road map for implementation can be derived. Measures include applications depending on the value added and/or the time to market. Many applications will only come to light on a step-by-step basis. Enablers need to be established along the value chain and across the organization.
The hardest lesson of digital transformation is the need to design for loss of control. Yet, by taking advantage of the unique resources and capabilities the U.S. has to offer, the automotive industry has an opportunity to get a jump on the competition in meeting the future demand of the U.S. and global markets with improved quality, reduced risk, and lower cost. With stronger domestic production based on digital factories, "Made in USA" can once again become a true competitive advantage.