The City of Woodstock is a dynamic and growing community of 40,000 located in the heart of southwestern Ontario at the crossroads of super highways 401 and 403. The city's progressive actions have made it a leader in the region for conservation, environmental initiatives, and long-term commitment to managed growth.

Woodstock has roots in both agriculture and manufacturing, as the recognized dairy capital of Canada and as home to Toyota's second Canadian manufacturing facility. With a skilled workforce, affordable housing, and a new community hospital, Woodstock truly is a growing city with a lot of rural, small-town charm.

In Woodstock, just-in-time delivery is a part of daily life. With an excellent supply of serviced and zoned industrial land, the community is eager to meet the needs of new and expanding businesses. Woodstock is capable of servicing a 100-acre industrial site for large-scale manufacturers.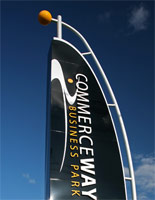 The City of Woodstock owns and maintains four industrial business parks, all located in close proximity to the Highway 401/403 interchange. The Pattullo Ridge Business Park is located at the Highway 59/401 interchange, while the Bysham Park Business Community is located just off Highway 2, approximately five kilometers from the Highway 2/401 interchange. A third business park, CommerceWay, opened in 2005 and is located along the north side of Highway 401. The fourth and newest, North East Business Park, is located less than one mile from the Toyota Motor Manufacturing plant.

Industrial land prices range from $65,000 to $100,000 per acre, depending upon proximity to the Highway 401/403 corridor. All of our business parks are fully serviced.

Woodstock also maintains a business-friendly environment through such policies as no development charges on industrial construction.

Our people know how to work hard and they have attained the skills to ensure the success of well over 140 manufacturers who make Woodstock their home. Combine all this with a relaxed lifestyle and real affordability and you'll see why Woodstock continues to attract more than its share of new business.