Mexico has one of the hottest post-recession economies in the world, with a projected growth rate of 4 percent for 2013–2019 and a controlled inflation rate of 3.8 percent. According to the U.S. Department of State's Bureau of Economic and Business Affairs, Mexico's economic stability and strong trading relationships with the U.S. and Canada makes it attractive to global investors.



Record FDI


Mexico's Finance and Public Credit Secretariat recently announced the country might set a record for foreign direct investment (FDI) in 2013. Mexico attracted $4.9 billion in FDI in the first three months of 2013, compared to the $12.7 billion it brought in for all of 2012 — a sign of strong investor confidence in the country.

Foreign direct investment remains strong across most economic sectors. Many of these projects are located in the northern states close to the U.S. border, where many maquiladoras are located. The majority of these new facilities or expansions are manufacturing operations, which can save up to 25 percent on operating costs compared to those in the United States.

As one of the top producers of automobiles in the world, Mexico continues to build an international reputation for transportation manufacturing. Major producers such as Nissan, General Motors, Audi, Ford, Honda, and BMW have all recently announced new manufacturing facilities or expansions in Mexico. Mexico is also working hard to gain market share in high-technology industries such as medical equipment, aerospace, electronics, and software development.



Trade Agreements


Thanks to the North American Free Trade Agreement, almost half of all the FDI in Mexico comes from U.S. investors. American and Canadian investors typically receive most-favored-nation status from the federal government for setting up operations or acquiring firms in Mexico. NAFTA has also eliminated some barriers to investment in Mexico, such as trade balancing and domestic content requirements, which streamline trade with its northern neighbors.

Mexico has also partnered with a number of other countries in free-trade agreements, including the European Union, Bolivia, Costa Rica, El Salvador, Guatemala, Honduras, Japan, and Nicaragua. In July 2012 Mexico also formed the Pacific Alliance with Peru, Colombia, and Chile.



Nearshoring to Mexico


Another reason the Mexican economy is expected to be robust in the coming years is the increasing trend of nearshoring by American companies (i.e., relocating from China and other low-cost countries to set up operations in Mexico, which is more stable).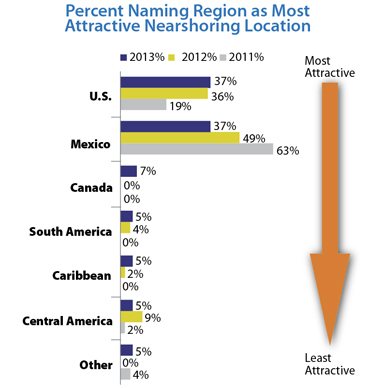 "Rising labor and transportation costs in China have produced a near-shoring trend that is helping fuel foreign direct investment in Mexico," says a spokesperson for the American Chamber of Commerce. "Global manufacturers and investors are now recognizing Mexico's strong economic performance, as well as its incredibly bright future."