It has been common for many original equipment manufacturers (OEMs) to establish themselves in Central and South America as well as China and to take their suppliers with them. However, a significant number of foreign companies are now considering locations in North America, and specifically the United States, indicating a shift in that trend with suppliers following.

For example, SSOE was recently employed by a paper manufacturer who had decided to locate its new mill in Brazil. The company believed since their process involved the use of Brazilian pulp, Brazil would be the most economical choice. Nevertheless, after comparing Brazil, Mexico, and the U.S., the client decided to consider sites in the U.S.

In the initial stage of the site selection process, SSOE gathered information from the client on a wide range of relevant issues. These included:
Customer proximity
Supplier proximity
Logistics (raw material and finished product)
Competitor proximity
Legal, financial, and marketing aspects
Land requirements for initial project and all future master plan phases
Utility requirements (water, sewer, gas, electricity, fiberoptics), based on both current use and future expansions
Workforce availability in a 45-mile radius of the site
Technical labor skills required
State/local training programs
Recurring costs (state and local taxes, wages, payroll taxes, utility costs, etc.)
Proximity to an international airport
Rail access and proximity to an intermodal hub
Incentives and cost offsets
Quality of life
Cost of living
Cost of construction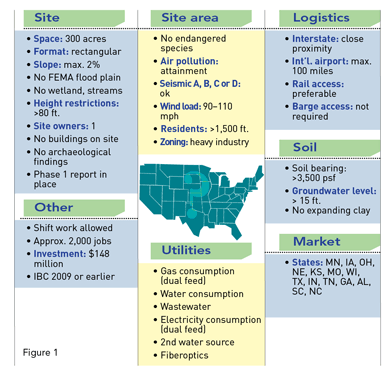 The Process


After defining the project specifications and criteria that would impact the client's decisions, SSOE sent out request for proposals (RFPs) to the qualified states and communities. Having a port was essential for the paper mill project and was a key factor in receiving 20 suitable site proposals from six states in the Southeast U.S. The entire project team visited the short-listed sites, and requested incentive proposals for the final three sites.

By way of explanation, local, state, and federal governments provide a wide variety of incentives (statutory and discretionary). It is important to determine the true value of the incentives being offered. Many communities provide large dollar value incentives that, in reality, no company can capture. One common example is state income tax credits, in which the available credits far exceed the potential tax liability of any site selection project.

SSOE developed a cost model — including all incentives, utility costs, freight costs, and wages — to determine a bottom line value for the paper mill project for all three mentioned countries: the U.S., Mexico, and Brazil. A comparison of factors that impact the site selection process in Mexico and Brazil is shown in Figure 2.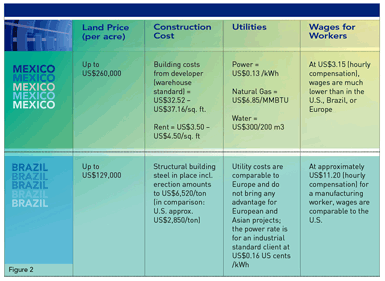 A Comparison


The low cost of wages for workers is typically the most significant benefit to having a manufacturing plant in Mexico. One key challenge is finding a suitable site that provides sufficient water capacity (mainly through wells) and power reliability. Additionally, many European and Asian companies fear the high crime rate currently existing in certain areas of Mexico and do not want to expose their expats to the potential dangers of working there.

Brazil is currently the seventh-largest world economy. Due to the recent World Cup and the upcoming Olympics, the design companies and contractors are at capacity. The economic development department is currently not very interested in or supportive of new projects.

After all comparisons had been done and the incentive proposals were evaluated, the company decided to locate its new greenfield plant in the Southeast U.S. It is no longer uncommon for companies to decide to build plants in the U.S. instead of in other countries. Currently, several European companies — BASF, Daimler, BMW, SGL, Wacker, and Airbus — are investing in the Southeast U.S. Compared to Europe, energy costs are less than half the price, and abundant gas is available, due to fracking. The recent strikes in Germany by the German railway and the German airline Lufthansa, as well as the blocking of freight traffic, will strengthen companies' decisions to invest in the U.S.



Advantages of a U.S. Location


Many states in the Southeast and Southwest offer tax incentive programs that are attractive for new and expanding industries, in addition to taxes that are among the lowest in the nation. The rapidly growing southeastern region, with its many current automotive and aerospace projects, also offers an attractive transportation system of interstates, airports, railways, and several large seaports for national and international commerce, including Mobile, Savannah, and Charleston. These right-to-work states, with their diverse pools of skilled and productive workers, have been attracting much foreign investment.

According to the Manhattan Institute for Policy Research, Inc., the "Southeast Manufacturing Belt" consists of counties in eastern Arkansas, all of Tennessee, and large swaths of Kentucky, the Carolinas, Georgia, Alabama, Mississippi, and southwestern Virginia. This area is about 222,000 square miles and has a population of 40 million people. The region's low utility costs, non-union environment, and low cost of living are continuing to attract investment from an increasing number of European and Asian manufacturing companies, especially since China is facing rising costs for wages and utilities.

Within the U.S., the southeastern region poses strong competition to the other regions of the nation. Not only does the Southeast have lower power rates, but the region also has the advantage of the presence of key industries. Honda, Mercedes, and Hyundai's automotive OEM plants are located in the Southeast. And the Boeing plant in Charleston, South Carolina, and Airbus jetliner assembly plant under construction in Mobile, Alabama, are part of the region's strong aerospace corridor that includes Mississippi, Georgia, and Florida.

In sum, as companies continue to review their global site selection options, they are realizing the strong, measurable advantages a U.S. location offers. These advantages can easily be overlooked if the location decision is based on limited information or preconceived notions.